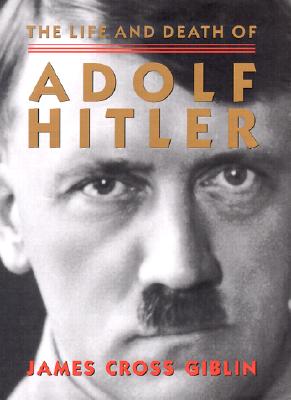 The Life and Death of Adolf Hitler (Hardcover)
Clarion Books, 9780395903711, 256pp.
Publication Date: April 1, 2002
* Individual store prices may vary.
or
Not Currently Available for Direct Purchase
Description
Many people believe Hitler was the personification of evil. In this intriguing biography, James Cross Giblin penetrates this façade and presents a picture of a complex person—at once a brilliant, influential politician and a deeply disturbed man.
In a straightforward and nonsensational manner, the author explores the forces that shaped the man as well as the social conditions that furthered his rapid rise to power. Against a background of crucial historical events, Giblin traces the arc of Hitler's life: his childhood, his years as a frustrated artist in Vienna, his extraordinary rise as dictator of Germany, his final days in an embattled bunker under Berlin. Powerful archival images provide a haunting visual accompaniment to this clear and compelling account of a life that left an ineradicable mark on our world. Author's note, bibliography, index.
About the Author
James Cross Giblin is the author of more than 20 critically acclaimed books for young people. His most recent book for Clarion, The Life and Death of Adolf Hitler, received the Robert F. Sibert Award for Informational Books. Mr. Giblin lives in New York City.
Praise For The Life and Death of Adolf Hitler…
The most complete and successful biography of the Fuhrer available for this audience. It takes courage to write fairly about the person who perpetuated almost certainly the most suffering and misery in the 20th century, and Giblin accepts this mantle and bears it nobly.
School Library Journal, Starred

Opening with an overview of dictators throught history, Giblin, always a graceful, unemotional stylist, traces the life and actions of the leader of "the thousand year Reich" in a straightforward and lucid manner. . . .In a time when people, young and old, are unaware or have forgotten that people like Hitler, his nation, his followers, and his high command existed, Giblin's carefully researched account is more important than ever. It is so readable that it should hold younger readers and educate older ones who may need their brains refilled with this history. An essential purchase.
Kirkus Reviews with Pointers

This insightful historical overview describes the social, political and economic conditions that proved ripe for the dictator's ascent.
Publishers Weekly, Starred

Hitler's cold eyes stare out from the cover photograph of this excellent biography. . . .Giblin moves beyond political events and delves into the twisted realms of Hitler's strangely contradictory personality.

Booklist, ALA, Starred Review

"The author succeed[s] admirably in producing a book that explains Hitler to young people. Compact, readable, and well documented." Riverbank Review
Advertisement