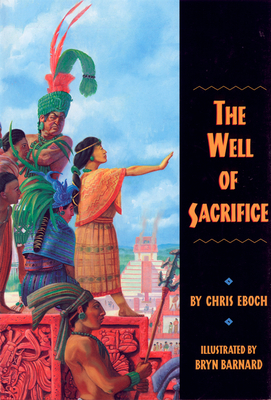 The Well of Sacrifice
Hardcover

* Individual store prices may vary.
Description
Eveningstar Macaw lives in a glorious Mayan city in the ninth century. When the king falls ill and dies, the city begins to crumble. An evil high priest, Great Skull Zero, orders the sacrifice of those who might become king, including Eveningstar's beloved brother. Suspicious of the High Priest's motives, Eveningstar attempts to save her brother, thus becoming an acknowledged enemy of the High Priest. Condemned to be thrown into the Well of Sacrifice, Eveningstar must find a way not only to save her own life but to rescue her family and her city from the tyrannical grasp of Great Skull Zero. Set against the vivid background of everyday life at the height of the Mayan golden age and illustrated with striking black-and-white paintings, Eveningstar's candid, gripping, and not-for-the-faint-of-heart account of the last days of a great city will have readers at the edge of their seats. Afterword.
Praise For The Well of Sacrifice…
"an exciting narrative with a richly textured depiction of ancient Mayan society...The novel shines not only for a faithful recreation of an unfamiliar, ancient world, but also for the introduction of a brave, likable, and determined heroine." Kirkus Reviews

Set in ninth-century Guatemala, at the height of the Mayan civilization, this is the story of Eveningstar Macaw, a young girl who finds the fate of her city in her hands. When she discovers enemy soldiers in the jungle while she is hunting medicinal herbs, Eveningstar Macaw tells her older brother, Smoke Shell, who saves the city. But the honor conferred upon Smoke Shell and his family turns out for the worse after the death of the king puts him in line to rule. Harsh, highly placed enemies sacrifice Smoke Shell to the gods; then it is up to Eveningstar Macaw to avenge her brother and eventually save herself. Eboch does a good job of balancing the many details of Mayan life with an electrifying--sometimes gory--story. Eboch does not pull back much as she chronicles both the sacrifices and the ritual bloodletting that were part of the Mayan culture. Of course, shocking events won't deter readers who will already be caught up in the excitement that reaches a high-velocity climax as Eveningstar Macaw struggles to avoid the fate her enemies have plotted for her.
Booklist, ALA —
Clarion Books, 9780395903742, 240pp.
Publication Date: March 30, 1999
About the Author
 Chris Eboch is the author of over 30 books for children, including The Well of Sacrifice and the Haunted series. Visit her online at chriseboch.com
 

Bryn Barnard is an author and illustrator of several books for children, including Outbreak! Plagues that Changed History and The Well of Sacrifice, which was written by Chris Eboch. Visit his online at his website at brynbarnard.com and on Twitter @brynbarnard.
 
or
Not Currently Available for Direct Purchase