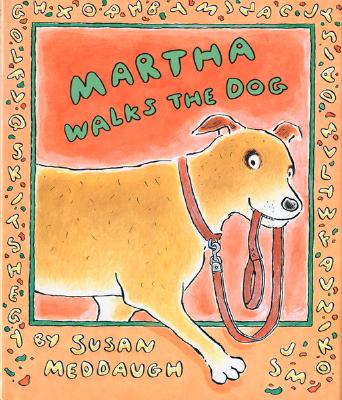 Martha Walks the Dog (Hardcover)
Harcourt Brace and Company, 9780395904947, 32pp.
Publication Date: October 26, 1998
* Individual store prices may vary.
or
Not Currently Available for Direct Purchase
Description
Martha loves her daily walks. She enjoys sniffing and scratching with her pals down by the hydrant. But today something is different. A house down the street has been sold, the for sale sign replaced by a new sign - Beware of Dog! Always curious, Martha investigates and discovers that there's a new dog in town, a blustering tough-dog named Bob. He's big and mean, and even Martha reluctantly concedes that he may be a bad dog. Martha will have to keep all her canine wits about her to protect her buddies and herself from the savage bully. Fortunately, she makes the acquaintance of a long-winded Parrot, and together the talkative duo may be able to restore peace to the neighborhood. In this hilarious new escapade by Susan Meddaugh, Martha is back, busily proving that there's no substitute for the simple power of praise for taming the toughest old dogs.
About the Author
Susan Meddaugh was born and raised in Montclair, New Jersey. She graduated from Wheaton College, where she studied French literature and fine arts. After working briefly with an advertising agency in New York, she moved to Boston and worked at a publishing company for ten years, first as a designer, then art editor, and finally as art director. While there, she did the illustrations for GOOD STONES (Houghton Mifflin) by Anne Epstein, and then decided to strike out on her own as a freelance illustrator and creator of children's books. Since that time, Susan has written and illustrated many popular books for children, including MARTHA SPEAKS, which was chosen as a NEW YORK TIMES Best Illustrated Book for 1992. In 1998 she was awarded the New England Book Award, given by the New England Booksellers Association to recognize a body of work. Her work also was acknowledged with a New York Times Best Illustrated Award. She lives in Sherborn, Massachusetts.
Praise For Martha Walks the Dog…
"Martha tames a bully - with kind words - in the latest funny tale of the talking dog. She enjoys impressing humans with her ability to speak, but she also needs her daily walks with her neighborhood dog pals, scratching, sniffing, snoozing, chasing. Then a new dog arrives, a big, ferocious hound who barks at Martha and everything else and who is kept chained up by his fierce owner. One day, the angry bully breaks his chain and chases Martha. All her shouts and insults have no effect, and she nearly runs out of words and breath - until the bully hears the words 'Good dog!' and he smiles and wags his tail. As always, Meddaugh's line-and-watercolor cartoons and ballooned gags celebrate not only humor and courage but also Martha's elemental discovery: 'Words are such fun.'" Booklist, ALA
Advertisement