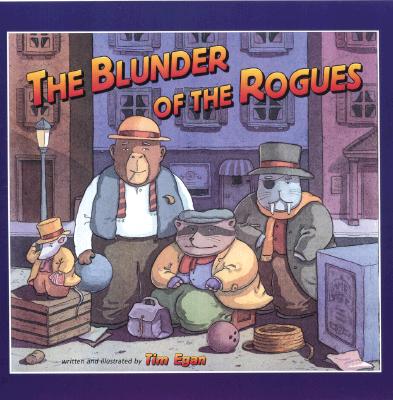 The Blunder of the Rogues (Library Binding)
Houghton Mifflin Books for Children, 9780395910078, 32pp.
Publication Date: March 1, 1999
* Individual store prices may vary.
or
Not Currently Available for Direct Purchase
Description
With his trademark wit and wry sense of humor, Tim Egan spins a tale of a life of crime. The Rogues, a shamefully poor bowling team, distraught at their inability to do anything well, are seduced into a life of crime. At last they believe they have stumbled upon something they might just be good at. Lured further into the seedy underworld by Vincent the Goat and the Sheep Lady, they are persuaded to attempt a bank heist. But this goes awry and the four friends wind up in the slammer with seven years' hard labor, and plenty of time to think about the error of their ways. In his most hilarious work to date, Tim Egan once again deftly delivers his point with offbeat humor and delightful illustrations and leaves us with a happy, unexpected ending.
About the Author
Tim Egan is the author and illustrator of several offbeat and humorous tales for children. He is consistently recognized for his individuality and delightful illustrations. Born in New Jersey, Tim moved to California to attend the Art Center College of Design in Pasadena, California. He still lives in southern California with his wife, Ann, and their two sons. To learn more about Tim Egan, visit his Web site at www.timegan.com. For a complete list of books by Tim Egan, visit www.houghton mifflinbooks.com.
Praise For The Blunder of the Rogues…
A raccoon named Skunk and his losing bowling team decide to turn criminal and end up becoming pawns in a bank robbing scheme orchestrated by a clever goat and his partner, the 'sheep lady.' Skunk's narrative, accompanied by ink and watercolor illustrations of the nattily dressed cohorts, re-creates the feel of an old-time gangster movie, but the story is only mildly amusing.
Horn Book

Egan's already strange universe (Distant Feathers, 1998, etc.) continues to expand with this weird and terrific story of a bowling team gone wrong. They are the Rogues, a motley band of creatures--raccoon, ape, rat, walrus--who are bad at bowling. One night, after a few particularly awful games, the frustrated ape kicks over a can of trash. It feels so good to all of them that they start down a path of subversive behavior: Crossing the street when the light said Don't Walk.' Scaring pigeons. We felt dangerous.' They encounter Vincent, who becomes their mentor, and the sheep lady, who trains them in the art of bank robbery. It's all a set-up; Vincent and the sheep lady go free, while the Rogues get seven years each in the slammer. Prison, though scary, does them good, and afterward the Rogues become prosperous and decent citizens of the community. Readers should just sit down and allow the barking unconventionality of this picture-book topic to wash over them. As ever, Egan's richly atmospheric artwork adds immeasurably to the story, evoking every reformed tough-guy movie ever made in plotting and narration, and just as classic.
Kirkus Reviews
Advertisement