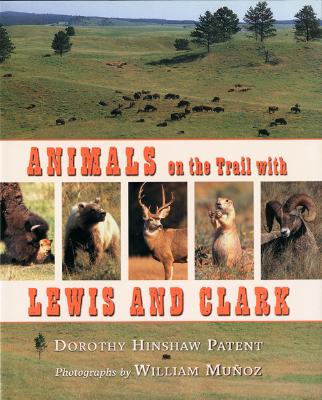 Animals on the Trail with Lewis and Clark (Hardcover)
Clarion Books, 9780395914151, 128pp.
Publication Date: March 1, 2002
* Individual store prices may vary.
or
Not Currently Available for Direct Purchase
Description
In 1804 Meriwether Lewis and William Clark were sent by President Thomas Jefferson to explore the largely uncharted western territory of North America, and thus became critical figures in America's expansion and major contributors to its scientific scholarship. They observed and documented scores of animals, including the Great Plains wolf, mule deer, prairie dogs, grizzly bears, and salmon. Several species and subspecies of mammals, birds, and fish previously unknown to science were recorded for the first time; the information gathered would serve as the basis of scientific study for years to come.
Collected here are stunning photographs by William Munoz that catalog the diverse array of wildlife witnessed by Lewis and Clark. Nature lovers and history buffs alike will be intrigued by this unusual account of the journey, whose bicentennial will soon be celebrated. Route maps, suggestions for further reading, chronology of animals sighted, index.
Praise For Animals on the Trail with Lewis and Clark…
This competent and attractive title presents a unique approach to the Lewis and Clark Expedition. . . . Munoz's fine photographic work in full color is featured on almost every page, making this an inviting introduction to the expedition, or to learn about the rich contribution made, particularly by Lewis, to the identification and description of western North American prodigious wildlife.
School Library Journal

"spacious page layouts, beautiful illustrations, and well-written...The Lewis and Clark expedition has already inspired a number of books, but few as handsome as this one." Booklist, ALA, Starred Review

Patent's dispassionate approach allows her to point out omissions (such as Lewis and Clark's failure to give a physical description of the coyote), sloppy documentation (the confusion of the grizzly bear's multiple names, for example), and strenghts (the scope and volume of the data gathered) without appearing either to debunk or adulate. Horn Book
Advertisement