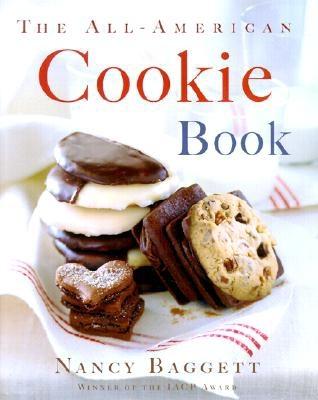 The All-American Cookie Book
Hardcover

* Individual store prices may vary.
Description
For this trailblazing collection of America's favorite cookies, Nancy Baggett crisscrossed the nation, visiting small-town bakeries, chic urban cookie boutiques, rural inns, bed-and-breakfasts, farmers' markets, and the homes of locally renowned cooks. She combed through community cookbooks and searched out long-lost heirloom recipes, sure-handedly reworking every recipe in her own kitchen.
THE ALL-AMERICAN COOKIE BOOK celebrates regional gems from every corner of the country: Pennsylvania Dutch Soft Sugar Cookies, New York Black and Whites, New Mexican Biscochitos, Key Lime Frosties from Florida, and Mocha Espresso Wafers from Seattle. A sophisticated hazelnut chocolate sandwich cookie that was the closely guarded secret of an Oregon hostess is here, and so is a delightfully crisp (and easy to roll out) old-fashioned gingerbread cookie recreated from a handwritten 1880 notebook.
Homespun classics abound: Chocolate Whoopie Pies, Caramel Apple Crumb Bars, Chocolate Chunk Brownies, and Caramel-Frosted Brown Sugar Drops. The collection also features devastatingly delicious contemporary creations like Chewy Chocolate Chunk Monster Cookies and Cranberry-Cherry Icebox Ribbons. For children and adults alike, one of the most exciting chapters will be the lavishly illustrated "Cookie Decorating and Crafts," which includes everything from simple projects like Christmas cookies and Chocolate Gingerbread Bears to an elaborate gingerbread house. As Nancy Baggett tells the story of America's heritage, she slips in fascinating bits of history, showing the evolution of our homegrown baking traditions.
Praise For The All-American Cookie Book…
"From one scrumptious cookie to the next, Nancy Baggett weaves together regional favorites both old and new in this unique collection with a distinctively American flavor." - Flo Braker

"The All-American Cookie Book is an all-too-rare treat among cookbooks: a book that is as delicious to bake from as it is fascinating to read. Nancy Baggett's clearly written, easy-to-follow recipes are bound to delight cookie monsters young and old, while her many and far-ranging short takes on cookie lore and history are just what curious bakers crave. The All-American Cookie Book is the perfect book for every cookie-loving American." — Dorie Greenspan

"Let others eat cake. Grab a glass of cold milk and gobble up the finest in American cookies with Nancy Baggett as your guide. Whether you favor jumbles, jewels, Joe Froggers, blondies, brownies, black and whites, or the quintessential chocolate chip, you'll find them here. With Nancy's generous helpings of history and special tips to yield consistently great results, your dessert plate will be well loaded." - Cheryl Alters Jamison and Bill Jamison

"Nancy Baggett's comprehensive book on American cookies is a winner! This is a book for people who love to bake and want to know the history and stories behind the cookies we eat." — Joan Nathan

"The All-American Cookie Book by Nancy Baggett (Houghton Mifflin, $35) is a flag-waver of a cookbook, built on the contention that American bakers have not just copied European customs but have created a distinct sweet repertoire of their own. The collection is accompanied by enough basic advice and instructions to tempt even a kitchen klutz to dip into the flour sack and the sugar jar." The San Francisco Chronicle
Houghton Mifflin Harcourt, 9780395915370, 416pp.
Publication Date: November 1, 2001
or
Not Currently Available for Direct Purchase