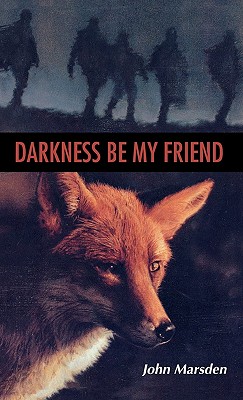 Darkness Be My Friend (The Tomorrow Series) (Hardcover)
HMH Books for Young Readers, 9780395922743, 288pp.
Publication Date: April 26, 1999
Other Editions of This Title:
Paperback (10/1/2006)
Pre-Recorded Audio Player (8/1/2009)
Compact Disc (4/23/2012)
MP3 CD (5/1/2008)
Audio Cassette (1/1/2004)
Compact Disc (1/1/2004)
* Individual store prices may vary.
Description
Ellie and her friends had been rescued. Airlifted out of their own country to the safe haven of New Zealand, they'd arrived burnt and injured and shocked, with broken bones, and scars inside and out. They did not want to go back. But five months later the war is not over, the nightmares continue, and there are two compelling reasons for them to return: a planned sabotage of the air base in Wirrawee and, most important, the families they left behind. In this most recent episode of the tale begun in Tomorrow, When the War Began and continued in The Dead of Night and A Killing Frost, John Marsden takes us back to Hell, the outpost for a group of teens in a war-ravaged country. "Fans of this powerful series will not look forward to an early armistice." (The Bulletin)
About the Author
John Marsden's highly praised series concludes in this thrilling installment that will bring readers to the edge of their seats and keep them there until the last page is turned. John Marsden is one of Australia's best-known writers for young adults. His work has received critical acclaim and has earned a cultlike following worldwide. The popular Tomorrow series has been translated into seven languages and has sold over one million copies in Australia alone.
Praise For Darkness Be My Friend (The Tomorrow Series)…
The fourth in the series that includes Tomorrow, When the War Began (1995), this sequel to A Killing Frost (1998) has Ellie, Fi, and their other teenage combat companions being pulled from a safe refuge in New Zealand and returning to their hometown in Australia for another perilous mission. Consistently intriguing and only occasionally gruesome, the battles they face develop credibly and include enough surprises to keep readers turning the pages. With a tone that suggests a natural maturity and shades of cynicism resulting from her hardships, Ellie is a solid narrator whose no-nonsense approach to love, war, and friendship makes her an unusual and impressive female protagonist. A personalized war novel that is apocalyptic yet open-ended enough for another sequel, Darkness benefits from not being limited to fitting into any one genre, but satisfactorily including aspects of several.

April 1, 1999 Booklist, ALA

"Fans of this powerful series will not look forward to an early armistice." (The Bulletin) The Bulletin of the Center for Children's Books

"This fourth book about a group of Australian teenagers fighting for survival following an enemy takeover of their country contains as much riveting suspense and cliffhanger chapter endings as the first three. A highly unlikely opening and premise is, ironically, followed by a string of events that are more realistic than those in previous books." Horn Book

Like John Marsden's other books, this story is immersed in darkness and dread. It's packed with almost unbearable suspense and breathtaking action, as the personalities and relationships of these decent country kids are eroded by the imperative for violence. Marsden fans will elbow each other aside for a copy of this one, and will look forward to the three new installments on the way.
Amazon.com

"Marsden's style is as surefooted as his independent band of teens." School Library Journal