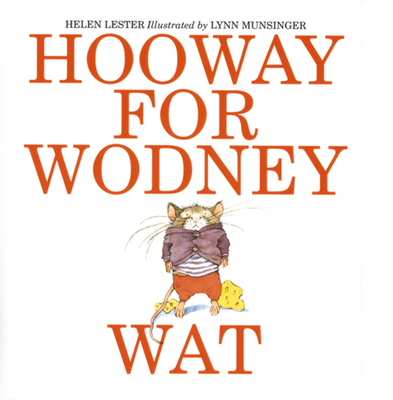 Hooway for Wodney Wat
Hardcover

* Individual store prices may vary.
Other Editions of This Title:
Paperback (5/27/2002)
Prebound (5/1/2002)
Prebound (5/27/2002)
Description
Poor Rodney Rat can't pronounce his R's and the other rodents tease him mercilessly. But when Camilla Capybara joins Rodney's class and announces that she is bigger, meaner, and smarter than any of the other rodents, everyone is afraid. It seems she really is bigger, meaner, and smarter than all of the rest of them. Until our unwitting hero, Wodney Wat, catches Camilla out in a game of Simon Says. Read along with Wodney as he surprises himself and his classmates by single-handedly saving the whole class from the big bad bully. Children will delight as shy Rodney Rat triumphs over all and his tiny voice decides the day, R's or no R's.
Praise For Hooway for Wodney Wat…
"The team responsible for the Tacky the Penguin books and Princess Penelope's Parrot (1996), among others, is in rare form in this picture book, in which a swell little guy proves himself a hero to his tormentors. Wodney Wat has a problem: he can't pronounce the letter r, which makes him the butt of constant jokes and teasing. He's so distressed, in fact, that he routinely buries his head in his jacket--the closest he can come to actually disappearing. He thinks he's really in for it when "big, mean, smart" Camilla Capybara appears in Miss Fuzzleworth's classroom. But the tables are deftly turned when Wodney is tapped to lead a game of Simon Says: when he says "Go West" after a tough round of play, guess who does. Munsinger's well-detailed illustrations are superbly funny, a perfect complement to a comical story that will not only make kids laugh but also hearten those who feel they'll be outsiders forever." Booklist, ALA

"Rodney Rat, who can't pronounce his R's, is the shyest, most miserable kid in school, until one day he saves his classmates from the mean bully Camilla Capybara. Wodney's transformation from cowering to empowered is beautifully underscored in the humorous, expressive illustrations. Appealingly, Wodney doesn't need to overcome his impediment to be liked--and it's the impediment itself and Wodney's clever use of it that foils the villain." Horn Book

A shy rodent turns his defect into strength to overcome class bully and save the day. Every page is a delight in this imaginative book, which culminates in surprising word play. Energetic illustrations capture perfectly the characters of timid Rodney, the overbearing Camilla Capybara, and their rowdy rodent classmates.
Parent's Choice (R)
Clarion Books, 9780395923924, 32pp.
Publication Date: March 15, 1999
About the Author
Helen Lester has written many hilarious and popular picture books, including the Tacky the Penguin series and Hooway for Wodney Wat. She lives in New York. www.helenlester.com
Lynn Munsinger
has illustrated more than ninety books for children, many written by her frequent collaborator, Helen Lester. She lives in Vermont.