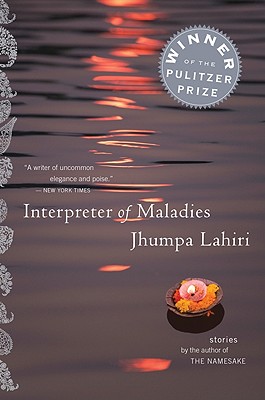 Interpreter of Maladies
Paperback

* Individual store prices may vary.
Other Editions of This Title:
Digital Audiobook (1/12/2005)
Paperback (10/22/2019)
MP3 CD (1/13/2005)
Compact Disc (1/13/2005)
Paperback, Chinese (8/30/2018)
Description
 With a new Introduction from the author for the twentieth anniversary

Winner of the Pulitzer Prize for fiction, this stunning debut collection unerring charts the emotional journeys of characters seeking love beyond the barriers of nations and generations. In stories that travel from India to America and back again, Lahiri speaks with universal eloquence to everyone who has ever felt like a foreigner.
 
Praise For Interpreter of Maladies…
"A writer of uncommon sensitivity and restraint."—Wall Street Journal

"Lahiri breathers unpredictable life into the page, and the reader finished each story reseduced, wishing he could spend a whole novel with its characters."—The New York Times Book Review

"Lahiri's touch is delicate yet assured, leaving no room for flubbed notes or forced epiphanies."—The Los Angeles Times
"A writer of uncommon elegance and poise."—New York times

"Dazzling writing, an easy-to-carry paperback format and a budget-respecting price tag of $12: Jhumpa Lahiri's Interpreter of Maladies possesses these three qualities, making it my book of choice this summer every time someone asks for a recommendation...Simply put, Lahiri displays a remarkable maturity and ability to imagine other lives...[E]ach story offers something special. Jhumpa Lahiri's Interpreter of Maladies will reward readers."—USA Today

"[S]torytelling of surpassing kindness and skill."—The San Francisco Chronicle
"Jhumpa Lahiri is the kind of writer who makes you want to grab the next person you see and say, 'Read this!'"—Amy Tan
 
Mariner Books, 9780395927205, 208pp.
Publication Date: June 1, 1999
About the Author
JHUMPA LAHIRI is the author of four works of fiction: Interpreter of Maladies, The Namesake, Unaccustomed Earth, and The Lowland; and a work of nonfiction, In Other Words. She has received numerous awards, including the Pulitzer Prize; the PEN/Hemingway Award; the PEN/Malamud Award; the Frank O'Connor International Short Story Award; the Premio Gregor von Rezzori; the DSC Prize for South Asian Literature; a 2014 National Humanities Medal, awarded by President Barack Obama; and the Premio Internazionale Viareggio-Versilia, for In altre parole.
What kinds of marriage are presented in the stories? One reviewer has written that Lahiri's "subject is not love's failure, ... but the opportunity that an artful spouse (like an artful writer) can make of failure ... " Do you agree or disagree with that assessment?
Lahiri has said, "As a storyteller, I'm aware that there are limitations in communication." What importance in the stories do miscommunication and unexpressed feelings have?
In "When Mr. Pirzada Came to Dine," what does the ten-year-old Lilia learn about the differences between life in suburban America and life in less stable parts of the world? What does she learn about the personal consequences of those differences?
For Mrs. Sen, "Everything is there" (that is, in India). What instances are there in these stories of exile, estrangement, displacement, and marginality—both emotional, and cultural?
What characterizes the sense of community in both the stories set in India and stories set in the U.S.? What maintains that sense, and what disrupts it?
Another reviewer has written, "Food in these stories is a talisman, a reassuring bit of the homeland to cling to." How do food and meal preparation maintain links to the characters' homelands? What other talismans—items of clothing, for example—act as "reassuring bits of the homeland"?
The narrator of "The Third and Final Continent" ends his account with the statement, "Still, there are times I am bewildered by each mile I have traveled, each meal I have eaten, each person I have known, each room in which I have slept." In what ways are Lahiri's characters bewildered?
What are the roles and significance of routine and ritual in the stories? What are the rewards and drawbacks of maintaining long-established routines and ritual?
In "Interpreter of Maladies," Mr. Kapasi finds it hard to believe of Mr. and Mrs. Das that "they were regularly responsible for anything other than themselves." What instances of selfishness or self-centeredness do you find in these stories?
In "Interpreter of Maladies," visitors to Konarak find the Chandrabhaga River dried up, and they can no longer enter the Temple of the Sun, "for it had filled with rubble long ago ..." What other instances and images does Lahiri present of the collapse, deterioration, or passing of once-important cultural or spiritual values?
What does Mrs. Sen mean when, looking at the traffic that makes "her English falter," she says to Eliot, "Everyone, this people, too much in their world"? What circumstances of life in both America and India account for people being "too much in their world"?
Rather than leave his weekly rent on the piano, the narrator of "The Third and Final Continent" hands it to Mrs. Croft. What similar small acts of kindness, courtesy, concern, or compassion make a difference in people's lives?
or
Not Currently Available for Direct Purchase