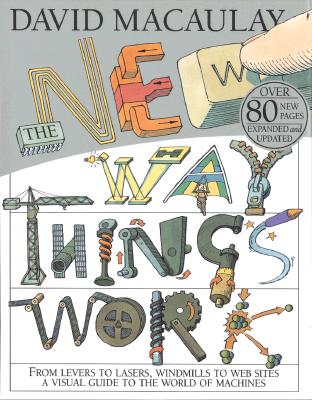 The New Way Things Work
Hardcover

* Individual store prices may vary.
Description
The information age is upon us, baffling us with thousands of complicated state-of-the-art technologies. To help make sense of the computer age, David Macaulay brings us The New Way Things Work. This completely updated and expanded edition describes twelve new machines and includes more than seventy new pages detailing the latest innovations. With an entirely new section that guides us through the complicated world of digital machinery, where masses of electronic information can be squeezed onto a single tiny microchip, this revised edition embraces all of the newest developments, from cars to watches. Each scientific principle is brilliantly explained--with the help of a charming, if rather slow-witted, woolly mammoth.
Praise For The New Way Things Work…
"The Way Things Work is not the only book that has tried to explain modern mysteries, but it's the best. Macaulay's explanations are lucid; they are also fun. He includes visual puns, running jokes, a cast of thousands of tiny participants in on and around the machines, choirs of angels and lots of big woolly mammoths." Boston Globe

"Keep the book a secret from your kids for a while and study up on the explanations of questions you're anticipating. Let Macaulay make you look smarter than you think you are. The kids will certainly be impressed - and you'll be getting a real education in the bargain." The Los Angeles Times

"The Way Things Work is a superb achievement. It is a very handsome book, a fascinating collection of riddles and a sound educational accomplishment that, while explaining in words and pictures - mostly pictures - some of the mysteries of physics, makes you smile, and often laugh. The author is honest enough to say that the book was intended for children of all ages, and brilliant enough to make all its readers feel brighter than they ever thought they could be." The New York Times

"This is a work of mammoth imagination, energy, and humor. It justifies every critic's belief that information and entertainment are not mutually exclusive - good nonfiction is storytelling at its best." The Bulletin of the Center for Children's Books, Starred

"Combining the tongue-in-cheek observations of a budding prehistoric engineer with acute descriptions of the functioning of mechanical and electrical machines, Macaulay has produced a superb volume.... Macaulay's unusual ability to focus, distill, organize, and convey information through his art has never been so impressively displayed." Horn Book, Starred

"An astonishing tour-de-force, three years in the making, by the architect-turned-author who has given us Cathedral and City...Large, clear, complete drawings...contain unexpected little details providing hours of enlightenment and discovery." Kirkus Reviews with Pointers

"A book to be treasured as both a browsing item and as a gold mine of reference information." School Library Journal, Starred
HMH Books for Young Readers, 9780395938478, 400pp.
Publication Date: October 26, 1998
About the Author
David Macaulay is an award-winning author and illustrator whose books have sold millions of copies in the United States alone, and his work has been translated into a dozen languages. Macaulay has garnered numerous awards including the Caldecott Medal and Honor Awards, the Boston Globe–Horn Book Award, the Christopher Award, an American Institute of Architects Medal, and the Washington Post–Children's Book Guild Nonfiction Award. In 2006, he was the recipient of a MacArthur Fellowship, given "to encourage people of outstanding talent to pursue their own creative, intellectual, and professional inclinations." Superb design, magnificent illustrations, and clearly presented information distinguish all of his books. David Macaulay lives with his family in Vermont.
or
Not Currently Available for Direct Purchase