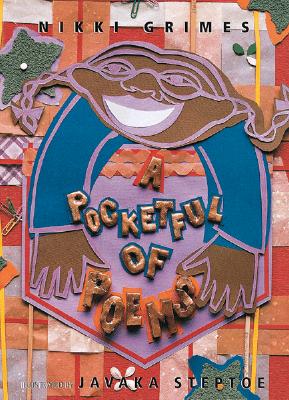 A Pocketful of Poems (Hardcover)
Clarion Books, 9780395938683, 32pp.
Publication Date: January 22, 2001
* Individual store prices may vary.
or
Not Currently Available for Direct Purchase
Description
Tiana has a pocketful of words: green words like spring, night words like moon, and words with wings, like angel. Each word is the inspiration for a pair of poemsone, lyrical free verse and the other, haiku. The paired poems reflect Tiana's lively spirit and urban outlook and are showcased in Javaka Steptoe's inventive collages, which include a wide range of materials, from faucet handles to pumpkin seeds to a hand-sculpted, gilded alphabet. A fusion of two remarkable creative talents, A Pocketful of Poems is an engaging portrait of a down-to-earth girl who has a way with words, as well as a tantalizing introduction to poetry. Author's note on haiku.
Praise For A Pocketful of Poems…
" Grimes (Jazmin's Notebook) boils poetry down to its essence in this picture book homage to words — a must-read for aspiring poets and writers. Narrator and girl poet Tiana begins with an invitation to join her in wordplay, and the accompanying illustration depicts her, literally, with hands outstretched and bearing what appear to be carved letters in her palms. The poem "Tiana" launches the volume, then the heroine leads readers through the seasons with more than a dozen words, from "Spring" to "Gift" at Christimastime. Each spread introduces the chosen word in a brief poem, then highlights the same word in a haiku. Tiana's bubbling personality shines forth from each verse, and Steptoe (In Daddy's Arms I Am Tall), in an extraordinary feat, sculpts each of his character portraits from construction paper in a single, uniterrupted linear outline. His glorious mixed-media collages make the transition from intimate interior scenes to electric urban landscapes. A standout spread for "Harlem," depicts a rooftop image of Tiana and her father; the words of the haiku comprise a display of fireworks: "Harlem —July Fourth/fireworks rainbow the night with/bursts of dazzling light." Readers can only hope that this dynamic duo has many more pockets full of poems." Publishers Weekly, Starred

"There's so much vibrant energy and freshness in this collaboration, the book will dance into the hearts of children right away." Booklist, ALA, Starred Review

A playful and thoroughly successful pairing of words and pictures.
School Library Journal

null Children's Books: 100 Titles NYPL
Advertisement