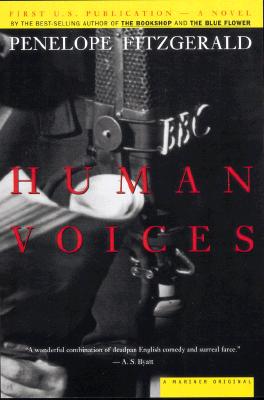 Human Voices (Paperback)
Mariner Books, 9780395956175, 143pp.
Publication Date: May 5, 1999
* Individual store prices may vary.
or
Not Currently Available for Direct Purchase
Description
When British listeners tuned in to the BBC's Nine O'Clock News in the middle of 1940, they had no idea what human dramas-and follies-were unfolding behind the scenes. Targeted by enemy bombers, the BBC had turned its concert hall into a dormitory for both sexes, and personal chaos rivaled the political. The tense relationship between two departmental directors is at the center of Human Voices, as is Annie, a sixteen-year-old assistant who falls hopelessly in love with the monstrously selfish one. Reading this intimate glimpse behind the scenes of the BBC in its heyday, "one is left with the sensation," William Boyd wrote in London Magazine, "that this is what is was really like."
Praise For Human Voices…
"Having come late to fiction--she was past 60 when her first novel appeared--Penelope Fitzgerald has made up for lost time. Three of her nine books were shortlisted for Britain's Booker Prize, whish she won in 1979 for Offshore. Her novel The Blue Flower, based on the life of the German poet Novalis, nabbed the National Book Critics Circle Award for fiction.

Awards are one thing, talent's another, and Fitzgerald has it in spades. Warm and wry, her writing is as economical as it is perfect. It's always a pleasure to see a new book under her name." The Washington Post

"Fitzgerald is one of the finest living English writers, and readers acquainted only with her prize-winning historical novel of Germany, "The Blue Flower," will relish encountering her on her home territory. Her beautifully economic fictions are always alive with meticulous, surprising phrases, whether she's conveying the expectant dread in England in 1940, when invasion seemed imminent, or writing about something more pragmatic, such as workers carrying on "with the exalted remorselessness characteristic of anyone who starts moving furniture." Salon
Advertisement