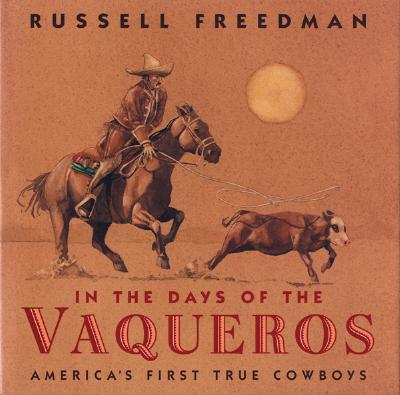 In the Days of the Vaqueros (Hardcover)
America's First True Cowboys
Clarion Books, 9780395967881, 80pp.
Publication Date: October 15, 2001
Other Editions of This Title:
Paperback (9/1/2008)
* Individual store prices may vary.
Description
In this rousing account of the first true cowboys, Newbery Medalist Russell Freedman brings to life the days when the vaqueros rounded up cattle, brought down steers, and tamed wild broncos. In the service of wealthy Spanish conquistadors in the sixteenth century, Mexican ranch hands began herd- ing cattle, often riding barefoot. They soon developed and perfected the skills for this dangerous work and became expert horsemen. Hundred of years later the vaqueros shared their expertise with the inexperienced cowboys of the American West, who adopted their techniques and their distinctive clothing, tools, and even lingo. Yet today it is the cowboy whom we remember, while the vaquero has all but disappeared from history.
The vaqueros are at last given their due in this dramatic narrative, lushly illustrated with beautiful period paintings and drawings.
About the Author
RUSSELL FREEDMAN received the Newbery Medal for Lincoln: A Photobiography. He is also the recipient of three Newbery Honors, a National Humanities Medal, the Sibert Medal, the Orbis Pictus Award, and the Laura Ingalls Wilder Award, and was selected to give the 2006 May Hill Arbuthnot Honor Lecture. Mr. Freedman lives in New York City and travels widely to research his books.
Praise For In the Days of the Vaqueros: America's First True Cowboys…
"[told] with depth, clarity, and vigor...beautiful, dazzling illustrations...will lure even the most reluctant history student and reader." Booklist, ALA, Starred Review

With clear and engaging prose, [Freedman] describes how the 1494 arrival of cattle and horses in Hispaniola led to a need for skilled and rugged horsemen able to control the eventually vast heards. While tracing the geographic spread of the vaqueros' work over time and the tasks and tools involved in the trade, he also weaves in some thought-provoking social history.
School Library Journal

Combining impressive research and the skill of a campfire storyteller, Freedman described the rugged and often violent life of the original "cowboys," as they are known today.
Publishers Weekly, Starred

With clear and economical prose, the ever-capable Freedman combines political, religious, and social history to celebrate the achievements of the largely unsung men who invented the tools and techniques that sustain an American mythos. . . .Lushly illustrated with archival material (including a spectacular sequence of Remington drawings) this fast-paced text brings to light the contributions of the Indians without whom the cowboys might never have existed.
Kirkus Reviews

Like Sandler's Vaqueros: America's First Cowmen, this is an exploration of the little-feted precursor to the cowboy. Sandler offers more discussion of the vaquero-cowboy connection, but the ever-reliable Freedman manages to make this overview both more concise and more contextually informative.
The Bulletin of the Center for Children's Books

null Children's Books: 100 Titles NYPL

null Booklist, Editor's Choice

Russell Freedman's handsome introduction to the history and work of the vaqueros pays long-overdue tribute to the skillfulness and ingenuity of these early Native-American cowmen.
Horn Book

[Freedman's] descriptive powers engross the reader as he depicts roundups, mustang breaking, slaughtering—the technique of hamstringing is jaw-droppingly explained—and even daily life on the hacienda. Period paintings of men and horses, cattle and land match both the action and the respectful solemnity of the prose.
New York Review of Books
or
Not Currently Available for Direct Purchase