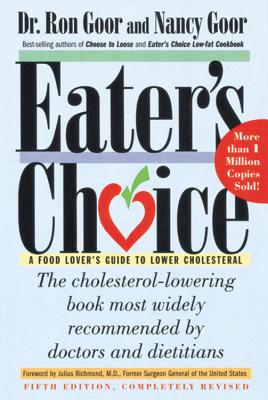 Eater's Choice (Paperback)
A Food Lover's Guide to Lower Cholesterol
Rux Martin/Houghton Mifflin Harcourt, 9780395971031, 560pp.
Publication Date: May 19, 1999
* Individual store prices may vary.
Description
Fully revised and updated, Eater's Choice recommends a simple method to reduce your risk of heart disease by up to 60 percent. Eater's Choice, a nationwide bestseller, is recommended by doctors and professional dietitians more often than any other book for people who want to lower blood cholesterol and live longer, healthier lives. The cornerstone of the Goor series, this fully revised edition recommends recent groundbreaking methods to control cardiac risk factors and provides information about the latest cholesterol-lowering drugs. Updated food tables make it easier than ever to choose the right foods for your diet.
About the Author
At the National Institutes of Health, Dr. Ron Goor was the coordinator of the landmark study that linked blood cholesterol and heart attack risk. His subsequent role as head of the National Cholesterol Education Program alerted Americans to the problems of their high-fat diet, changing the eating habits of the nation. Ron and Nancy Goor have also written the best-selling Eater's Choice and the Eater's Choice Low-Fat Cookbook.