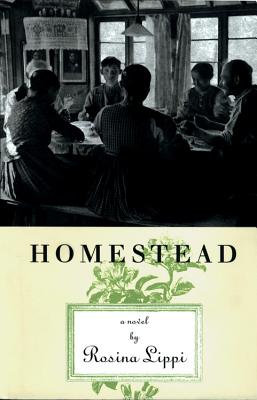 Homestead (Paperback)
Mariner Books, 9780395977712, 224pp.
Publication Date: May 5, 1999
* Individual store prices may vary.
Description
Each life has its place, and every variation ripples the surface of the tiny alpine village called Rosenau. Be it a mysteriously misaddressed love letter or a girl's careless delivery of two helpless relatives into Nazi hands, the town's balance is ever tested, and ever tender. Here is a novel spanning eighty years -- years that bring factories and wars, store-bought cheese and city-trained teachers -- weaving the fates of the wives, mothers, and daughters in this remote corner of Austria. To quote Rosellen Brown, "the women in this haunting book are deeply and uniquely of their place, yet they speak (often wordlessly) of women's longings and satisfactions everywhere."
Praise For Homestead…
"This is a novel of great depth, compassion and tenderness. " -- Brigitte Frase The New York Times

"Each of the 12 keenly observed, interconnected stories in this absorbing debut collection focuses on an epochal moment in the life of one of three generations of women in the tiny Austrian town of Rosenau and the surrounding homesteads. Although Rosenau is bounded on all sides by the Alps, there is a slow influx of events from the outside world. When the book opens in 1909, a postcard arrives at the general store, and the effects of this brief misaddressed note ripple the surface of the isolated hamlet. Later, many men fail to return from the front during WWI; meanwhile, their families live in suspended fear about their fate. In a moving and poignant tale, an Italian deserter seeks protection and comforts a lonely woman who has never had a lover. During the next war, a German soldier arrives in a gleaming Daimler and carries off the town's two "feeble" boys to their doom. Each of these events upsets the town's equilibrium. But by the time the book closes in 1977, the effects of these foreign intrusions have been absorbed in the continuing cycles of birth, marriage, death and the changing seasons. Having herself lived for some years in the Bregenz Forest area of western Austria, Lippi conveys a haunting sense of place and a pervasive social code. Clan charts and a glossary explain the archaic language and distinctive conventions of the region, but it is the cumulative effect of the stories themselves that envelops the reader in a time and place that is at once strange and universal. " Publishers Weekly

"By the time you finish the first of these linked stories, you can hardly bear to have it end." The New Yorker

"The setting for this poignant novel is Rosenau, an isolated Austrian Village, and the story encompasses generations of villagers and their intimate lives. The magic of the novel lies in the author's ability to make the faraway seem familiar, even when it is tragic or brutal. Structured as short stories told from the viewpoints of different members of the village, the novel follows their intertwined lives from 1909 through 1977, layering story upon story to develop the village and the characters. Lippi's characters are nothing short of wonderful. There is, for example, Johanna, whose heart is torn between her love for Francesco--a soldier hiding in the Austrian Alps--and her sister Angelika, who hides her dependence upon Johanna behind not-so-subtle reminders of familial duty. And there is Katharina, whose impulsiveness causes her to betray her two half-brothers for a ride in a Nazi motorcar, and Stante, who proves his worth not only in the Wainwright's workshop but also by his courage withstanding the Nazis. The character portrayals are based upon Lippi's own experiences living in Austria for four years. You'll hate for these stories to end." Amazon.com