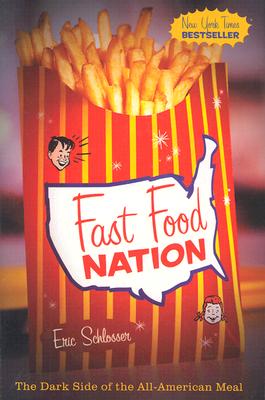 Fast Food Nation
The Dark Side of the All-American Meal
Hardcover

* Individual store prices may vary.
Other Editions of This Title:
Paperback (3/13/2012)
Paperback (10/1/2006)
Paperback (1/1/2010)
Paperback (11/1/2009)
(7/1/2005)
Paperback (7/5/2005)
Paperback (9/1/2007)
Compact Disc, Abridged, Abridged (5/4/2004)
Paperback (4/1/2002)
Description
Are we what we eat?
To a degree both engrossing and alarming, the story of fast food is the story of postwar Amerca. Though created by a handful of mavericks, the fast food industry has triggered the homogenization of our society. Fast food has hastened the malling of our landscape, widened the chasm between rich and poor, fueled an epidemic of obesity, and propelled the juggernaut of American cultural imperialism abroad. That's a lengthy list of charges, but Eric Schlosser makes them stick with an artful mix of first-rate reportage, wry wit, and careful reasoning.
Schlosser's myth-shattering survey stretches from the California subdivisions where the business was born to the industrial corridor along the New Jersey Turnpike where many of fast food's flavors are concocted. He hangs out with the teenagers who make the restaurants run and communes with those unlucky enough to hold America's most dangerous job -- meatpacker. He travels to Las Vegas for a giddily surreal franchisers' convention where Mikhail Gorbachev delivers the keynote address. He even ventures to England and Germany to clock the rate at which those countries are becoming fast food nations.
Along the way, Schlosser unearths a trove of fascinating, unsettling truths -- from the unholy alliance between fast food and Hollywood to the seismic changes the industry has wrought in food production, popular culture, and even real estate. He also uncovers the fast food chains' efforts to reel in the youngest, most susceptible consumers even while they hone their institutionalized exploitation of teenagers and minorities. Schlosser then turns a critical eye toward the hot topic of globalization -- a phenomenon launched by fast food.
FAST FOOD NATION is a groundbreaking work of investigation and cultural history that may change the way America thinks about the way it eats.
Praise For Fast Food Nation: The Dark Side of the All-American Meal…
"...Schlosser is a serious and diligent reporter..." "[Fast Food Nation] is a fine piece of muckraking, alarming without beling alarmist."

- Rob Walker, NYTBR 1/21/01 The New York Times

"Eric Schlosser's 'Fast Food Nation' is a good old-fashioned muckraking expose in the tradition of 'The American Way of Death' that's as disturbing as it is irresistible....Exhaustively researched, frighteningly convincing....channeling the spirits of Upton Sinclair and Rachel Carson....Schlosser's research is impressive--statistics, reportage, first-person accounts and interviews, mixing the personal with the global." The San Francisco Chronicle

"An exemplary blend of polemic and journalism....A tale full of sound, fury, and popping grease." --starred review Kirkus Reviews

"Schlosser is part essayist, part investigative journalist. His eye is sharp, his profiles perceptive, his prose thoughtful but spare; this is John McPhee behind the counter...." The Washington Post

"...everywhere in his thorough, gimlet-eyed, superbly told story, Mr. Schlosser offers up visionary glints....For pure, old-fashioned, Upton Sinclair-style muckraking, the chapters on the meatpacking industry are masterful." Observer

"'Fast Food Nation' is investigative journalism of a very high order. And the fit between the author's reporting and his narrative style is just about perfect. The prose moves gracefully between vignette and exposition, assembling great quantities of data in small areas without bursting at the seams." Newsday

"Schlosser establishes a seminal argument for the true wrongs at the core of modern America." Publishers Weekly, Starred

"...reminiscent of Upton Sinclair's 'The Jungle'....." Boston Globe

"...Schlosser has done huge amounts of intense, on-the-scene reporting, and he backs up his concerns very convincingly. He presents incredibly resonant images and statistics and observations the reader is unlikely to forget." --San Jose Mercury News

"'Fast Food Nation' should be another wake-up call, a super-size serving of common sense...." Atlanta Journal Constitution

"Part cultural history, part investigative journalism and part polemic...intelligent and highly readable critique...." --Time Out New York

"Fast Food Nation is the kind of book that you hope young people read because it demonstrates far better than any social studies class the need for government regulation, the unchecked power of multinational corporations and the importance of our everyday decisions." USA Today

"Fast Food Nation presents these sometimes startling discoveries in a manner that manages to be both careful and fast-paced. Schlosser is a talented storyteller, and his reportorial skills are considerable." --Hartford Courant
Houghton Mifflin Harcourt, 9780395977897, 368pp.
Publication Date: January 17, 2001
About the Author
Eric Schlosser is a correspondent for The Atlantic. His work has also appeared in Rolling Stone, Vanity Fair, The Nation, and The New Yorker. He has received a National Magazine Award and a Sidney Hillman Foundation Award for reporting.
or
Not Currently Available for Direct Purchase