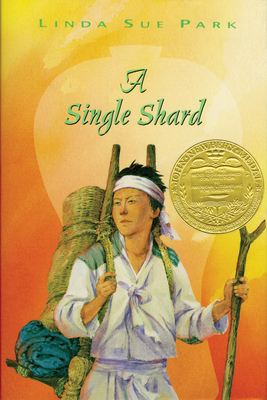 A Single Shard (Hardcover)
Clarion Books, 9780395978276, 160pp.
Publication Date: April 23, 2001
Description
In this Newbery Medal-winning book set in 12th century Korea, Tree-ear, a 13-year-old orphan, lives under a bridge in Ch ulp o, a potters' village famed for delicate celadon ware. He has become fascinated with the potter's craft; he wants nothing more than to watch master potter Min at work, and he dreams of making a pot of his own someday. When Min takes Tree-ear on as his helper, Tree-ear is elated until he finds obstacles in his path: the backbreaking labor of digging and hauling clay, Min's irascible temper, and his own ignorance. But Tree-ear is determined to prove himself even if it means taking a long, solitary journey on foot to present Min's work in the hope of a royal commission . . . even if it means arriving at the royal court with nothing to show but a single celadon shard.
About the Author
Linda Sue Park is the author of the Newbery Medal book A Single Shard, many other novels, several picture books, and most recently a book of poetry: Tap Dancing on the Roof: Sijo (Poems). She lives in Rochester, New York, with her family, and is now a devoted fan of the New York Mets. For more infromation visit www.lspark.com.
Praise For A Single Shard…
Park (Seesaw Girl) molds a moving tribute to perseverance and creativity in this finely etched novel set in mid-to-late 12th century Korea. . . Readers will not soon forget these characters or their sacrifices. Publishers Weekly, Starred

" Intrigues, danger and the same strong focus on doing what is right turn a simple story into a compelling read. . . Tree-ear's story conveys a time and place far away and long ago, but with a simplicity and immediacy that is both graceful and unpretentious. A timeless jewel." Kirkus Reviews with Pointers

Like Park's Seesaw Girl and the Kite Fighters, this book not only gives readers insight an unfamilar time and place, but it is also a great story.
School Library Journal, Starred

This quiet, but involving story draws readers into a very different time and place. Though the society has its own conventions, the hearts and minds and stomachs of the characters are not so far removed from those of people today. Readers will feel the hunger and cold that Tree-ear experiences, as well as his shame, fear, gratitude, and love. A well-crafted novel with an unusual setting.
Booklist, ALA, Starred Review

Park's story is alive with fascinating information about life and art in ancient Korea.
Horn Book Guide

A broken piece of pottery sets events in motion as an orphan struggles to pay off his debt to a master potter. This finely crafted novel brings 12th-century Korea and these indelible characters to life.
SLJ Best Books of the Year

null Children's Books: 100 Titles NYPL

null Booklist, Editor's Choice
Advertisement