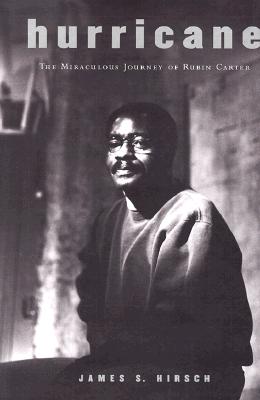 Hurricane (Hardcover)
The Miraculous Journey of Rubin Carter
Houghton Mifflin Harcourt, 9780395979853, 345pp.
Publication Date: January 1, 2000
Other Editions of This Title:
Paperback (10/20/2000)
* Individual store prices may vary.
Description
HURRICANE recounts the harrowing, inspiring odyssey of Rubin "Hurricane" Carter, a black boxer wrongly convicted of three murders, from fierce despair to freedom and enlightenment. On June 17, 1966, two black men strode into the Lafayette Grill, a white redoubt in racially mixed Paterson, NJ, and shot three people to death. Rubin Carter and his young acquaintance John Artis were not those men, but they were convicted of the murders in a highly publicized and racially charged trial. Fiercely outspoken at the best of times, Carter raged against his imprisonment and vehemently refused to subject himself to its regimens. He shunned the prison's food, insisted on keeping his ornate gold watch, and refused to don prison garb, even after a hellish month in the "hole," where his own clothes literally rotted off him. He also became the apotheosis of the jailhouse lawyer, poring over the vast transcript of his trial, immersing himself in dense case books, and penning his own legal documents.

Over the next decade, Carter amassed convincing evidence of his innocence and the vocal support of numerous celebrities (Bob Dylan's song "Hurricane" was but one example). He was freed pending a new trial only to lose his appeal, to the astonishment of many, and land back in prison. He languished there at his lowest ebb, robbed not only of his freedom, but of his wife (whom he divorced to lessen her share of his torment) and of his eye (lost in a botched prison operation). He avoided almost all human contact, until he received a letter from Lesra Martin, a teenager raised in a Brooklyn ghetto. Against his bitter instincts, Carter agreed to meet with Martin, thus taking the first step on a long, tortuous path back into the world. Martin introduced Carter to an enigmatic group of Canadians, including a strong-willed woman with whom he would commence an intense, unlikely romance. In the process, the Canadians would help wage an international battle to free him.

Even as Carter orchestrated this effort from his cell, he embarked on a singular intellectual journey that would lead ultimately to a freedom more profound than any legal authority could grant him. Through an intensive course of study whose texts ran from Victor Frankl to Malcolm X to Hermann Hesse, he gradually raised his consciousness, quelled his rage, and even forgave his captors. James Hirsch has crafted a superb exploration of the nexus of race, sports, and justice. HURRICANE is at once a poignant chronicle of jailhouse redemption, a compelling account of David vs. Goliath court fights, and a revealing history of one of the most dramatic and controversial episodes in the saga of civil rights in America.
Praise For Hurricane: The Miraculous Journey of Rubin Carter…
"Hirsch writes vividly and tells the entire story with economy and grace." Boston Globe

"A riveting, straight-ahead account." Kirkus Reviews

null The Los Angeles Times

"Anyone curious about the persistence of Carter's notoriety ... will find all the answers in [this] exhaustive biography . . . A nearly biblical tale of persecution, punishment and redemption." -- Reviewed by CHARLES KAISER The New York Times

"Hirsch brings an objective historical perspective to the boxer's story. Scrupulously researched and expertly crafted, Hirsch's updated account of Carter's life is both a rich portrait of a complex man and a clear-eyed telling of a remarkable life...Carter's hellish ride through the judicial system and the heroic efforts to free him make for fascinating reading...." Publishers Weekly

"[A] compelling, well-researched and balanced antidote to the Hollywood caricature of Mr. Carter's odyssey...." The Wall Street Journal

"An excellent investigation of the Carter case and his life." Library Journal

"Hirsch gives us an intimate portrait of Carter and the strange Canadian communalists/cultists who, by 1988, had helped him win his ultimate freedom." Newsday

"[A] sturdy, detail-exhausting page-turner that recalls 'A Civil Action.' St. Louis Post-Dispatch

"A riveting story....Hirsch has acquitted his subject well, skillfully recounting the emotional story of a man whose perseverance eventually resulted in his freedom not only from the State of New Jersey, but from the prison he had previously imposed upon himself." Denver Rocky Mountain News
or
Not Currently Available for Direct Purchase