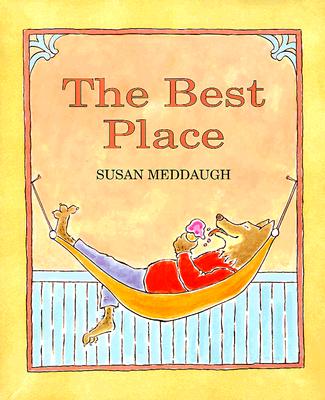 The Best Place (Hardcover)
HMH Books for Young Readers, 9780395979945, 32pp.
Publication Date: October 25, 1999
Other Editions of This Title:
Paperback (8/30/2004)
* Individual store prices may vary.
Description
The old wolf likes his house. He likes his neighbors. But he loves his screened in porch. From there he can watch the beautiful sunset. He can be outside when it rains and never get wet. The mosquitoes can't bite him on his screened in porch, and even on the hottest summer nights there is always a breeze. The wolf thinks his porch is the best place in the world until one day his friend Bird says, "How do you know? You've never been anyplace else." This question inspires the wolf to sell his house and travel the world. Eventually his journey brings him back home, but he is unable to get his house back. Upset, he behaves very badly, and even his good intentions get him into trouble. But in the end he understands that sometimes when you can't get what you want, you find something even better.
About the Author
Susan Meddaugh was born and raised in Montclair, New Jersey. She graduated from Wheaton College, where she studied French literature and fine arts. After working briefly with an advertising agency in New York, she moved to Boston and worked at a publishing company for ten years, first as a designer, then art editor, and finally as art director. While there, she did the illustrations for Good Stones (Houghton Mifflin) by Anne Epstein, and then decided to strike out on her own as a freelance illustrator and creator of children's books. Since that time, Susan has written and illustrated many popular books for children, including Martha Speaks, which was chosen as a New York Times Best Illustrated Book for 1992. In 1998 she was awarded the New England Book Award, given by the New England Booksellers Association to recognize a body of work. Her work also was acknowledged with a New York Times Best Illustrated Award. She lives in Sherborn, Massachusetts.
Praise For The Best Place…
"Meddaugh combines understated humor with her expressive watercolor illustrations to produce a delightful book." School Library Journal, Starred

"A wolf loves to sit on his screened porch watching the world go by until he realizes that when he calls his porch the best place in the world, he has no basis for comparison. He sells his house to a rabbit family and begins traveling. Now he has a basis for comparison: the outside world has mosquitoes, hot sandy deserts, and rain. So he goes home, but the rabbits don't want to sell. He throws a temper tantrum, and suddenly his neighbors realize what big teeth he has. Ashamed, he tries to prepare his neighbors' dinner, but the animals think dinner is to be them and rout the wolf. The misunderstanding is resolved, and the wolf, who has climbed a tree, finds a new "best place" and builds a tree house--to which his animal friends are always invited. The story meanders a bit, but Meddaugh's pen-and-watercolor artwork is clever as usual. The focus is on the quixotic wolf, and the pictures are at their best as the wolf tries to put up with the vagaries of travel. Not as fresh as some of Meddaugh's books, but fun nonetheless." Booklist, ALA

Could it be that the grass really is greener on the other side of the porch? The wolf dearly loves his cozy screened-in sanctuary, but a seed of doubt planted by his friend, a bird who has seen more of the world, leads him to sell his house, pack his bags, and go searching for an even more idyllic spot. Humorous drawings capture the wolf's expressive reactions to his disappointing experiences, along with his frustration and wistfulness when he discovers that he can't go home; the rabbits love his old house too much to sell it back, even at twice the price. Several misunderstandings ensue before the wolf finds a perfect perch, and a way to make amends with his neighbors. Meddaugh (Martha Walks the Dog, 1998, etc.) tells a funny tale, with lesson that even young listeners will appreciate; the story's surprising twists and unpredictable outcome will make children turn to this one again.
Kirkus Reviews
or
Not Currently Available for Direct Purchase