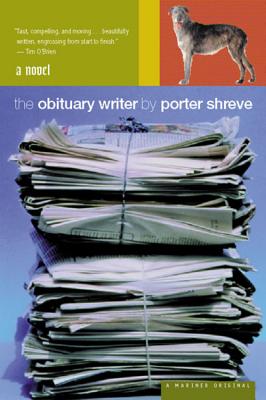 The Obituary Writer (Paperback)
Mariner Books, 9780395981320, 224pp.
Publication Date: June 7, 2000
* Individual store prices may vary.
Description
Gordie Hatch is twenty-two, charmingly naive, and certain that his first job as a writer for the ST LOUIS INDEPENDENT'S obituary page will be a stepping stone to a crackerjack career in journalism. The year is 1989, and Gordie watches helplessly while dramatic events -- the very events that could be his lucky break -- unfold in the world around him. But nothing can prepare him for the call he gets from Alicia Whiting, a young widow with an accent he can't quite place. When Gordie agrees to meet Alicia, against his better judgment, his journalistic curiosity quickly turns into an obsessive search for the outrageous truth behind the Whiting family. Shot through with affectionate humor and surprising twists and turns, THE OBITUARY WRITER introduces an author of enormous talent and heart. Porter Shreve brings a deft touch to the moments that mark a young person's entrance into the world, and a sharp eye to the ways in which the lead story can be wonderfully, seductively misleading.
About the Author
PORTER SHREVE was born during the Lyndon Johnson administration, and grew up in Washington, D.C. In the 1970s his family started an alternative school called Our House Is a Very, Very, Very Fine House, and some of When the White House Was Ours is loosely based on that experience. Shreve's first novel, The Obituary Writer, was a New York Times Notable Book, and his second, Drives Like a Dream, was a Chicago Tribune Book of the Year.
Praise For The Obituary Writer…
"This novel is a delightful read; the kind of book one simply wants to nestle into. There are constant quirky surprises, as well as a great plot, and so the reader is propelled forward quite willingly through the book's own special world." --Elizabeth Strout, author of AMY AND ISABELLE