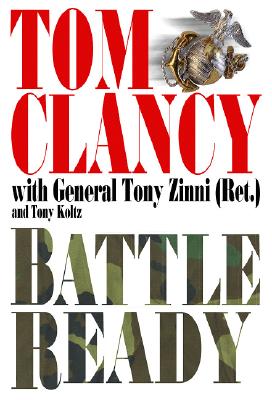 Battle Ready (Hardcover)
G.P. Putnam's Sons, 9780399151767, 464pp.
Publication Date: May 24, 2004
Other Editions of This Title:
Paperback (5/3/2005)
* Individual store prices may vary.
Description
In his first three Commanders books, Tom Clancy teamed with Generals Fred Franks, Jr., Chuck Horner, and Carl Stiner to provide masterful blends of history, biography, you-are-there narrative, insight into the practice of leadership, and plain, old-fashioned storytelling. Battle Ready is all of that-and it is also something more.

Marine General Tony Zinni was known as the "Warrior Diplomat" during his nearly forty years of service. As a soldier, his credentials were impeccable, whether leading troops in Vietnam, commanding hair-raising rescue operations in Somalia, or-as Commander in Chief of CENTCOM-directing strikes against Iraq and Al Qaeda. But it was as a peacemaker that he made just as great a mark-conducting dangerous troubleshooting missions all over Africa, Asia, and Europe; and then serving as Secretary of State Colin Powell's special envoy to the Middle East, before disagreements over the 2003 Iraq War and its probable aftermath caused him to resign.

Battle Ready follows the evolution of both General Zinni and the Marine Corps, from the cauldron of Vietnam through the operational revolution of the seventies and eighties, to the new realities of the post-Cold War, post-9/11 military-a military with a radically different job and radically different tools for accomplishing it. It is an eye-opening book-a front-row seat to a man, an institution, and a way of both war and peace that together make this an instant classic of military history.
About the Author
A little more than thirty years ago Tom Clancy was a Maryland insurance broker with a passion for naval history. Years before, he had been an English major at Baltimore's Loyola College and had always dreamed of writing a novel. His first effort, The Hunt for Red October, sold briskly as a result of rave reviews, then catapulted onto the New York Times bestseller list after President Reagan pronounced it "the perfect yarn." From that day forward, Clancy established himself as an undisputed master at blending exceptional realism and authenticity, intricate plotting, and razor-sharp suspense. He passed away in October 2013.
or
Not Currently Available for Direct Purchase