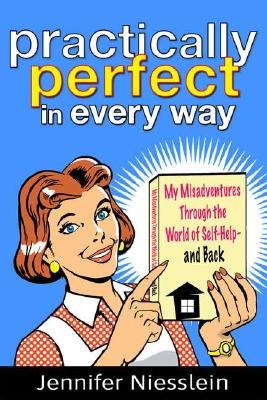 Practically Perfect in Every Way (Hardcover)
Putnam Adult, 9780399153914, 352pp.
Publication Date: May 17, 2007
Other Editions of This Title:
Paperback (5/6/2008)
* Individual store prices may vary.
Description
A wry, perceptive, and witty examination of our relentless need for self-improvement by the admittedly imperfect founding coeditor of the award-winning quarterly Brain, Child: The Magazine for Thinking Mothers.

Jennifer Niesslein-writer, editor, mother, and flawed human being-spent two years taking self-help advice in an effort to become a better, happier person. Fulfilling her goal of enlightened self-improvement begins with the relatively mundane (her house), moves on toward progressively larger themes (money, marriage, motherhood), and ends up with karmic insights into the burning issues of life (spirituality and meaning). As she allows an array of self-help experts-from Dr. Phil to the Fly Lady, pediatrician William Sears to holistic health guru Dr. Andrew Weil-to copilot her life, Niesslein sometimes finds herself in terra incognita. She runs through her house throwing items away. She communicates with her husband in three-minute speeches. She encourages her first-grader to dream up revenge fantasies. She searches for holy water. At one point, she is even possessed-briefly-by the spirit of a conservative talk-radio host. Although the road to self-help Nirvana is fraught with peril, she discovers that there is such a thing as the good life. It's just a question of how perfect you have to be to get it.

With her irreverent sensibility and uncanny insight into the Zeitgeist, Jennifer Niesslein takes on our uniquely American preoccupation with the perfectibility of man and turns it squarely on its ear.
or
Not Currently Available for Direct Purchase