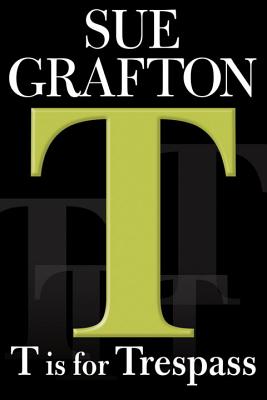 T Is for Trespass (Hardcover)
G. P. Putnam's Sons, 9780399154485, 387pp.
Publication Date: December 4, 2007
Description
tres pass \'trespes\ n: a transgression of law involving one's obligations to God or to one's neighbor; a violation of moral law; an offense; a sin
-Webster's New International Dictionary, Second Edition, Unabridged In what may be her most unsettling novel to date, Sue Grafton's T is for Trespass is also her most direct confrontation with the forces of evil. Beginning slowly with the day-to-day life of a private eye, Grafton suddenly shifts from the voice of Kinsey Millhone to that of Solana Rojas, introducing readers to a chilling sociopath. Rojas is not her birth name. It is an identity she cunningly stole, an identity that gives her access to private caregiving jobs. The true horror of the novel builds with excruciating tension as the reader foresees the awfulness that lies ahead. The suspense lies in whether Millhone will realize what is happening in time to intervene. Though set in the late eighties, T is for Trespass could not be more topical: identity theft; elder abuse; betrayal of trust; the breakdown in the institutions charged with caring for the weak and the dependent. It reveals a terrifying but all-too-real rip in the social fabric. Once again, Grafton opens up new territory with startling results.
About the Author
New York Times bestselling author Sue Grafton is published in 28 countries and 26 languages--including Estonian, Bulgarian, and Indonesian. Books in her alphabet series, begun in 1982, are international bestsellers with readership in the millions. And like Raymond Chandler, Ross Macdonald, Robert Parker, and John D. MacDonald--the best of her breed--Sue Grafton has earned new respect for the mystery form. Her readers appreciate her buoyant style, her eye for detail, her deft hand with character, her acute social observances, and her abundant storytelling talents.Sue divides her time between Montecito, California and Louisville, Kentucky, where she was born and raised. She has three children and two grandchildren. Grafton has been married to Steve Humphrey for more than twenty years. She loves cats, gardens, and good cuisine.
Advertisement