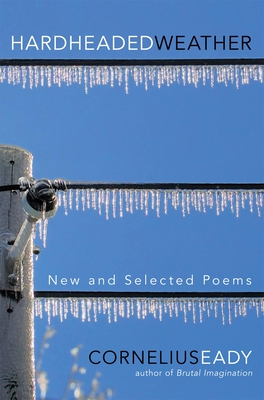 Hardheaded Weather (Paperback)
Putnam Adult, 9780399155116, 224pp.
Publication Date: April 10, 2008
* Individual store prices may vary.
or
Not Currently Available for Direct Purchase
Description
Cornelius Eady's new poems show him in full control of his considerable talents and displaying a rich maturity as he enters midlife. His poems are sly, unsentimental, and witty, full of truths that are intimate and profound. Hardheaded Weather ranges widely, reflecting the newfound responsibilities Eady has assumed as he transitions from urban renter to nonplussed rural homeowner, as well as the sobering influence of war and the intimation of his own mortality. Yet even at his angriest, the poet has always had a depth of compassion rare in our polarized age, with a sense of humor that is both sophisticated and demotic. These poems will resonate deeply. As exciting as the new poems are, his selected earlier poems dazzle, too, as they demonstrate the arc of Cornelius Eady's maturation and the originality of his voice. Taken together, Hardheaded Weather forms a moving--and sometimes searing --testament to the power of poetry.
About the Author
Formerly director of the Poetry Center at SUNY/Stony Brook, Cornelius Eady is currently distinguished writer-in-residence at the City College of New York. He has been awarded the Academy of American Poets Lamont Prize, a Rockefeller Foundation Fellowship to Bellagio, Italy, and fellowships from the Lila Wallace-Reader's Digest Foundation and the John Simon Guggenheim Foundation. Brutal Imagination was nominated for the 2001 National Book Award for Poetry. The author of six previous volumes, he lives in New York City.
Advertisement