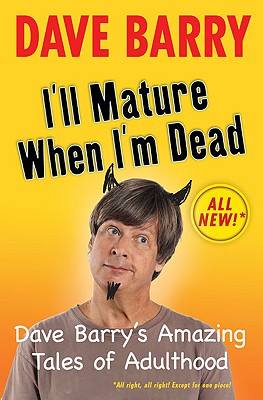 I'll Mature When I'm Dead (Hardcover)
Dave Barry's Amazing Tales of Adulthood
Putnam Adult, 9780399156502, 272pp.
Publication Date: May 4, 2010
Other Editions of This Title:
Digital Audiobook (5/3/2010)
Paperback (4/5/2011)
Compact Disc (5/4/2010)
* Individual store prices may vary.
Description
A brilliantly funny exploration of the treacherous state of adulthood by the Pulitzer Prize-winning humorist.
Some people may wonder what this subject has to do with Dave Barry, since Dave's struggled hard against growing up his entire life-but the result is one of the funniest, warmest, most pitch-perfect books ever on that mystifying territory we call "adulthood."
In hilarious, brand-new pieces, Dave tackles everything from fatherhood, new fatherhood ("Over the next five years, you will spend roughly 45 minutes, total, listening to songs you like, and roughly 127,000 hours to songs exploring topics such as how the horn on the bus goes* *It goes: 'Beep Beep Beep ']"), self-image, the battle of the sexes, celebrityhood, technology, parenting styles, certain unmentionable medical procedures ("There is absolutely no reason to be afraid of a vasectomy, except that: THEY CUT A HOLE IN YOUR SCROTUM."), and much more. It is a book of pure delight from the man one newspaper claimed "could become the most important American humorist since Mark Twain" (South Florida "Sun-Sentinel")...though, frankly, we think they were indulging in some adult beverages at the time.
Watch a Video
About the Author
Dave Barry is a humor columnist. For 25 years he was a syndicated columnist whose work appeared in more than 500 newspapers in the United States and abroad. In 1988 he won the Pulitzer Prize for Commentary. Many people are still trying to figure out how this happened.Dave has also written a total of 25 books, although virtually none of them contain useful information. Two of his books were used as the basis for the CBS TV sitcom "Dave's World," in which Harry Anderson played a much taller version of Dave.Dave plays lead guitar in a literary rock band called the Rock Bottom Remainders, whose other members include Stephen King, Amy Tan, Ridley Pearson and Mitch Albom. They are not musically skilled, but they are extremely loud. Dave has also made many TV appearances, including one on the David Letterman show where he proved that it is possible to set fire to a pair of men's underpants with a Barbie doll.In his spare time, Dave is a candidate for president of the United States. If elected, his highest priority will be to seek the death penalty for whoever is responsible for making Americans install low-flow toilets.Dave lives in Miami, Florida, with his wife, Michelle, a sportswriter. He has a son, Rob, and a daughter, Sophie, neither of whom thinks he's funny.
Praise For I'll Mature When I'm Dead: Dave Barry's Amazing Tales of Adulthood…
"Despite years of medication, Dave Barry is still the funniest damn writer in the whole country. Let's hope he never grows up."
-Carl Hiaasen

"Dave Barry's best book so far, which is saying a lot."
-P.J. O'Rourke
Book Videos
or
Not Currently Available for Direct Purchase