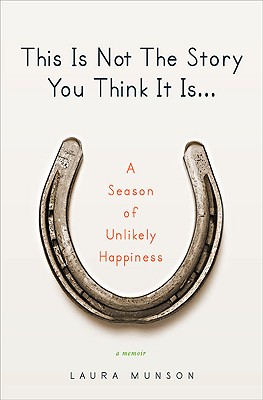 This Is Not The Story You Think It Is...
A Season of Unlikely Happiness
Hardcover

* Individual store prices may vary.
Other Editions of This Title:
Digital Audiobook (6/30/2010)
Paperback (4/5/2011)
MP3 CD (8/11/2015)
Paperback (4/1/2011)
MP3 CD (7/1/2010)
MP3 CD (7/1/2010)
Compact Disc (7/1/2010)
Compact Disc (7/1/2010)
Description
Laura Munson's essay in the "New York Times," about the time she was tested in a way she never anticipated, created a firestorm-now here's the whole story.
When Laura Munson's essay was published, "The New York Times" was so flooded with responses that they had to close down the comment feature. Readers wrote in saying that they had sent the column to all of their friends. Therapists wrote Munson to tell her that they were passing it out to their clients.
What did Munson write that caused such a fervor?
Laura detailed what happened when her husband of more than twenty years told her he wasn't sure he loved her anymore and wanted to move out. And while you might think you know where this story is going, this isn't the story you think it is. Laura's response to her husband: I don't buy it.
In this poignant, wise, and often funny memoir, Munson recounts a period of months in which her faith in herself-and her marriage-was put to the test. Shaken to the core after the death of her beloved father, not finding the professional success that she had hoped for, and after countless hours of therapy, Laura finally, at age forty, realized she had to stop basing her happiness on things outside her control and commit herself to an "End of Suffering." "This Is Not The Story You Think It Is..." chronicles a woman coming to terms with the myths we tell ourselves-and others-about our life and realizing that ultimately happiness is completely within our control.
Watch a Video
Praise For This Is Not The Story You Think It Is...: A Season of Unlikely Happiness…
"Laura Munson takes the spiritual stuff and the personal stuff and the love stuff and the pain stuff and she brews them all together in a very fun and touching memoir. I'm a fan. This is a wonderful book."
-Marianne Williamson

"This Is Not the Story You Think It Is is true to its title. The book took me by surprise. I read it in one sitting and loved Munson's tone, wit, wisdom and writing."
-Anita Shreve

"Let me tell you what this book is about. This is a book about saying yes. It's the story of Laura Munson's alchemical ability to create abundance and bounty in the face of scarcity and abandonment-no small triumph. Filled with gems big and small. . . Munson is a wonderful guide-wise, brave, and tenaciously honest."
-Melanie Gideon, author of The Slippery Year: A Meditation on Happily Ever After

"This book is fabulous. Laura Munson's noble quest to become the source of her own happiness will take you by the hand and heart as it guides you through the steps to living a life without suffering. Her story pulls back the curtain on the only magic we ever need to know: how to make the shift from fear to love."
-Arielle Ford, author of The Soulmate Secret

"Laura Munson's powerful and buoyant book gives us wisdom in generous slices. But it is Munson's abilities as a storyteller that show us how to discover-how to find and feel-the real wisdom that may arise from our lives, as messy and heartbreaking as they may be. Woman, wife, mother, neighbor-this fine writer converts her own life's journeys into a series of vignettes so focused and compelling, so heartbreaking, sometimes so funny, that they resound with the force of parables."
-David Baker, poetry editor of "The Kenyon Review"

"Laura Munson has served up a whopping portion of sanity. This book has the potential to start a cultural revolution."
-Leif Peterson, author of Catherine Wheels and Normal Like Us

"I loved this book. It's unusual, memorable and wry, laugh-out-loud funny too."
-Leslie Morgan Steiner, author of Crazy Love and Mommy Wars
Amy Einhorn Books/Putnam, 9780399156656, 352pp.
Publication Date: April 1, 2010
About the Author
Laura Munson lives with her family in Montana, where she writes novels, memoirs, short stories, and essays. This is her first published book.
Book Videos
or
Not Currently Available for Direct Purchase