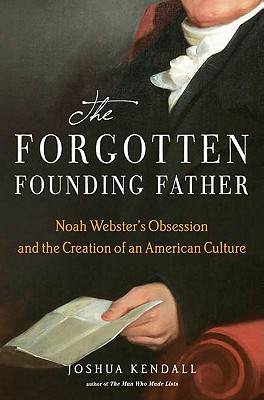 The Forgotten Founding Father (Hardcover)
Noah Webster's Obsession and the Creation of an American Culture
Putnam Adult, 9780399156991, 368pp.
Publication Date: April 14, 2011
* Individual store prices may vary.
or
Not Currently Available for Direct Purchase
Description
America's own The Professor and the Madman: the story of Noah Webster, author of the first dictionary of American English-and a forgotten leader during a turning point in our nation's history.

Noah Webster's name is now synonymous with the dictionary he created, but although there is much more to his story than that singular achievement, his rightful place in American history has been forgotten over time. Webster hobnobbed with various Founding Fathers and was a young confidant of George Washington and Benjamin Franklin, among others. He started New York City's first daily newspaper, predating Alexander Hamilton's New York Post. His "blue- backed speller" for schoolchildren, his first literary effort, sold millions of copies and influenced early copyright law. He helped found Amherst College and served as a state representative for both Connecticut and Massachusetts. But perhaps most important, Webster was an ardent supporter of a unified, definitively American culture, distinct from the British, at a time when the United States of America were anything but unified-and his dictionary of American English is a testament to that.

In The Forgotten Founding Father, Joshua Kendall, author of The Man Who Made Lists: Love, Death, Madness, and the Creation of Roget's Thesaurus, gives us a well-researched and absorbing look into the life of Webster, another man driven by his obsessions and compulsions to compile and organize words. The result is a treat for word lovers and history buffs alike.


About the Author
Joshua Kendall is a language enthusiast and an award-winning freelance journalist whose work has appeared in such publications as "The Boston Globe," "The Wall Street Journal," and "Psychology Today." He lives in Boston.
Advertisement