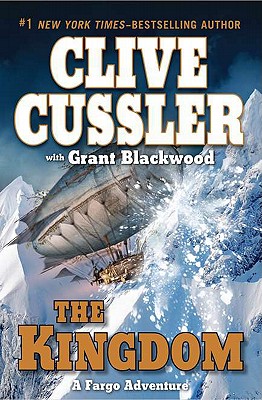 The Kingdom (Hardcover)
Putnam Adult, 9780399157424, 400pp.
Publication Date: June 6, 2011
* Individual store prices may vary.
Description
Sam and Remi Fargo return for the thrilling third adventure in the acclaimed new series.
In "Spartan Gold" and "Lost Empire," Clive Cussler brought readers into the world of husband-and-wife team Sam and Remi Fargo, whose passion and instinct for treasure-hunting has led to extraordinary discoveries-and perilous journeys.
Their next adventure, however, might be their most astonishing yet.
The Fargos are used to hunting for treasure, not people. But then a Texas oil baron contacts them with a personal plea: an investigator friend of the Fargos' was on a mission to find the oil baron's missing father-and now the investigator is missing, too. Would Sam and Remi be willing to look for them both? Though something about the situation doesn't quite add up, the Fargos agree to go on the search.
What they find will be beyond anything they could have imagined. On a journey that will take them to Tibet, Nepal, Bulgaria, India, and China, the Fargos will find themselves embroiled with black-market fossils, a centuries-old puzzle chest, the ancient Tibetan kingdom of Mustang, a balloon aircraft from a century before its time . . . and a skeleton that could turn the history of human evolution on its head.
Packed with the endless imagination and breathtaking suspense that are his hallmarks, "The Kingdom" once again proves that Clive Cussler is "just about the best storyteller in the business" ("New York Post").
About the Author
Clive Cussler is the author of many "New York Times" bestsellers, most recently "The Spy" and "Lost Empire." He lives in Arizona.

Grant Blackwood caught the fiction-writing bug at the age of eighteen while reading Clive Cussler s The Mediterranean Caper, and spent the next four years working in different styles of fiction before settling on novel-length work. Mr. Blackwood is a U.S. Navy veteran, having spent three years active duty aboard the guided missile frigate USS Ford as an Operations Specialist and a Pilot Rescue Swimmer. Two months after leaving the Navy in July 1987, Mr. Blackwood started the first draft of his first novel, which as he puts it, wasn t good enough to be published, but good enough to earn a spot in my sock drawer. It took me several more years of rewriting before I realized the publishers and agents who d been saying no were saying no for a good reason. Twelve years to the day after leaving the Navy, Mr. Blackwood received an offer from Penguin-Putnam/Berkley to buy his second novel, The End of Enemies, which hit the stands May 8th. Mr. Blackwood is 36 years old and lives in Minnesota, where he is working on this next novel, the second in the Briggs Tanner series of thrillers, which is due out in Spring/Summer of 2002."
or
Not Currently Available for Direct Purchase