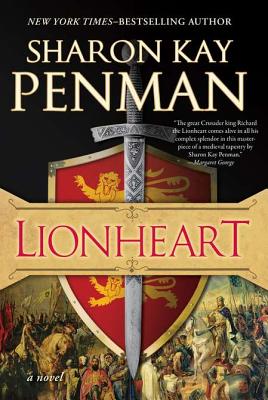 Lionheart
Hardcover

* Individual store prices may vary.
Other Editions of This Title:
Digital Audiobook (12/8/2011)
Paperback (1/1/2013)
Hardcover (3/1/2012)
Paperback (3/1/2012)
Hardcover, Large Print (2/15/2012)
Description
From the New York Times-bestselling novelist, a stunning story of a great medieval warrior-king, the accomplished and controversial son of Henry II and Eleanor of Aquitaine: Richard, Coeur de Lion.
They were called "The Devil's Brood," though never to their faces. They were the four surviving sons of Henry Plantagenet and Eleanor of Aquitaine. With two such extraordinary parents, much was expected of them.
But the eldest-charming yet mercurial-would turn on his father and, like his brother Geoffrey, meet an early death. When Henry died, Richard would take the throne and, almost immediately, set off for the Holy Land. This was the Third Crusade, and it would be characterized by internecine warfare among the Christians and extraordinary campaigns against the Saracens. And, back in England, by the conniving of Richard's youngest brother, John, to steal his crown.
In Lionheart, Sharon Kay Penman displays her remarkable mastery of historical detail and her acute understanding of human foibles. The result is a powerful story of intrigue, war, and- surprisingly-effective diplomacy, played out against the roiling conflicts of love and loyalty, passion and treachery, all set against the rich textures of the Holy Land.
Praise For Lionheart…
"The great Crusader king Richard the Lionheart comes alive in all his complex splendor in this masterpiece of a medieval tapestry by Sharon Kay Penman. She brings him and his legendary enemy, Saladin, before us, both on the battlefield for Jerusalem and in the quiet of their private chambers. It's as if you were there, in this strange, beguiling, vanished time that haunts the Middle East even today. Penman has triumphed in capturing its elusive essence and the blazing glory of the English king called Lionheart."
--Margaret George, author of Elizabeth I: A Novel
Marian Wood Book, 9780399157851, 594pp.
Publication Date: October 4, 2011
About the Author
The story behind Sharon Kay Penman's first novel has become legendary. For many years while she was a student and then a tax lawyer, Penman slowly but steadily worked on a novel about the life of Richard III. After finishing the manuscript, however, her only copy was stolen from her car in a busy parking lot, Thankfully, Penman rewrote the entire novel that would become The Sunne in Splendour. It was published in 1982. She then quit her job to write full-time. Penman is the author of five critically acclaimed historical novels, including Here Be Dragons, The Reckoning, and most recently, When Christ and His Saints Slept, and one medieval mystery, The Queen's Man, a finalist for an Edgar Award for Best First Mystery from the Mystery Writers of America. She lives in New Jersey.On the web: http: //www.sharonkaypenman.com
or
Not Currently Available for Direct Purchase