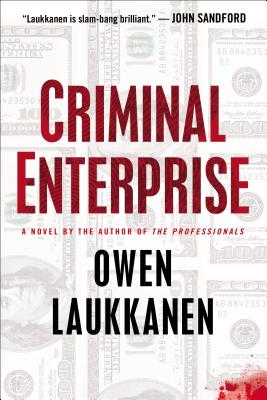 Criminal Enterprise (Hardcover)
Putnam Adult, 9780399157905, 408pp.
Publication Date: March 21, 2013
* Individual store prices may vary.
Description
The new Stevens and Windermere novel from the author of the dazzlingly acclaimed "The Professionals" one of the best debuts of the year ("Mystery Scene").
From the outside, Carter Tomlin's life looked perfect: a big house, pretty wife, two kids a St. Paul success story. But Tomlin has a secret. He's lost his job, the bills are mounting, and that perfect life is hanging by a thread. Desperate, he robs a bank. Then he robs another.
As the red flags start to go up, FBI Special Agent Carla Windermere homes in on Tomlin from one direction, while Minnesota state investigator Kirk Stevens picks up the trail from another. The two cops haven t talked since their first case together, but that's all going to change very quickly.
Because Carter Tomlin's decided he likes robbing banks. And it's not because of the money, not anymore. Tomlin has guns and a new taste for violence. And he's not quitting anytime soon.
About the Author
After graduation, Owen Laukkanen answered a Craigslist ad and for the next three years, he was the tournament reporter for a poker website, traveling from the luxurious casinos of Monaco and Macau to the sketchiest card rooms of Atlantic City. A resident of Vancouver, he is now at work on a third book featuring Stevens and Windermere."
Praise For Criminal Enterprise…
Praise for CRIMINAL ENTERPRISE:
 
"[Criminal Enterprise is] one hell of a wild ride – full of corkscrews, cutbacks, blind curves, and barrel rolls. The pace is quick, the plot is intricate, and the stakes start out high and increase exponentially over the course of the tale."—Crimespree
 
"Laukkanen, one of the best thriller writers to emerge in the wake of the Great Recession, has a keen understanding of what readers expect in a crime thriller. His pace is relentless, and he shifts expertly between his characters' perspectives, short chapter by short chapter, as he hurls readers toward an inevitably explosive finale." ––Richmond Times-Dispatch
 
""Criminal Enterprise" showcases Laukkanen's original storytelling. We can't wait to find out which everyman-turned-criminal Carla and Kirk tangle with next."—South Florida Sun-Sentinel

"Fans of crime thrillers shouldn't miss this one or anything else with Laukkanen's name on the cover. The writing is so crisp, the pages almost want to turn themselves. He's a terrific storyteller."—Kirkus Reviews (starred review)

"Laukkanen as clearly avoided the sophomore slump, deftly alternating taut narratives and building toward a grand climax that's completely organic to the story.  Windermere, Stevens, and Tomlin are strikingly realistic characters sharing varying degrees of dissatisfaction with their lives, and readers will identify with their struggles to reconcile their own needs with their responsibilities to others."—Booklist (starred review)
 
"Criminal Enterprise is a bloody good thriller" ––Ft. Worth Star-Telegram
 
"Laukkanen keeps the tension high…this is a suspenseful ride."––Houston Chronicle
 
"Owen Laukkanen: Latest novel is Criminal Enterprise. Laukkanen's 2012 debut The Professionals was my favorite debut of the year and seems to have set a tone for his series—focusing on the impact of the economic downturn. While that might not seem to be the basis of an exciting thriller, Laukkanen has made it so. His are action-packed stories that also are contemporary cautionary tales. Laukkanen also gives a vivid look at amorality, entitlement and consequences."—Mystery Scene
 
 "If you've ever wanted to write a terrific crime novel, Criminal Enterprise could well be the blueprint." ––New York Journal of Books
 
"This high-voltage thriller practically deserves a warning label on its cover... the writing is so crisp you can almost hear it crunch between your teeth, and the action builds to a jaws-clenching finish."–– Read Me Deadly
 
"The Professionals was highly and rightly praised...Criminal Enterprise is even better. Laukkanen has a plot line built on the death of the American Dream." –– The Globe and Mail
or
Not Currently Available for Direct Purchase