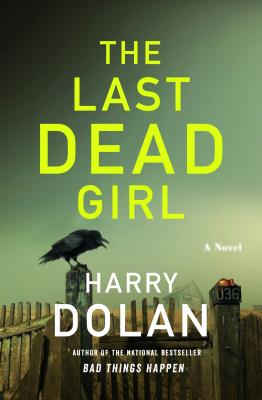 The Last Dead Girl (Hardcover)
G.P. Putnam's Sons, 9780399157967, 416pp.
Publication Date: January 9, 2014
Other Editions of This Title:
Digital Audiobook (1/8/2014)
Pre-Recorded Audio Player (2/1/2014)
Paperback (10/7/2014)
Compact Disc (1/9/2014)
Compact Disc (1/9/2014)
MP3 CD (1/9/2014)
* Individual store prices may vary.
Description
A "Wall Street Journal" Best Mystery of 2014
David Loogan's dark past is revealed in this prequel to "Bad Things Happen" the critically acclaimed mystery that Stephen King called a great f***ing book.
On a rainy night in April, a chance encounter on a lonely road draws David into a romance with Jana Fletcher, a beautiful young law student. Jana is an enigma: living in a run-down apartment and sporting a bruise on her cheek that she refuses to explain. David would like to know her secrets, but he lets them lie until it's too late.
When Jana is brutally murdered, the police consider David a prime suspect. But as he sets out to uncover the truth about Jana, he begins to realize he's treading a very dangerous path and that her killer is watching every move he makes.
About the Author
Harry Dolan is the bestselling author of "Bad Things Happen" and" Very Bad Men." He graduated from Colgate University, where he majored in philosophy and studied fiction writing with the novelist Frederick Busch. A native of Rome, New York, he now lives in Ann Arbor, Michigan.
Praise For The Last Dead Girl…


Priase for The Last Dead Girl

"Absorbing, exciting . . . fast and unpredictable . . . Mr. Dolan's characters are human enough to catch you off-guard, and he makes the actions of even the creepiest ones believable." —Tom Nolan, The Wall Street Journal

"Dolan has a talent for ingenious, serpentine plots. . . . Dolan is an inventive, offbeat writer who manages to provide an entertaining mystery. . . . His David Malone novels deserve the praise they've received. Most likely, we'll keep learning more about the trouble-prone Mr. Malone for years to come." —The Washington Post
  "A New Master Mystery Writer Emerges: I hadn't read Harry Dolan before, for which I'm thankful, as this is a prequel to his previous two mysteries. Now I can read about David Malone, who apparently later changes his name to David Loogan, in chronological order. Dolan's writing is excellent, and readers can look forward to his future efforts the way millions of us look forward to the ever more superb novels of Harlan Coben, Michael Connelly, Jonathan Kellerman and Sue Grafton." —Steve Forbes, Forbes   "Dolan's seemingly effortless prose sets off dialogue that surprises and delights, and his intricate plot is simply dazzling: a twisting, shifting labyrinth of events, characters, and motivations . . . every bit as good—if not better—than the first." —Booklist   "[T]his prequel to 2009's Bad Things Happen puts Dolan's gifts as a storyteller on full display . . . you're in for a suspenseful ride." —Publishers Weekly   "A very interesting plot with good characters that lure the reader into a variety of different worlds. Who could ask for anything more?" —Suspense Magazine
"One of Dolan's gifts is creating capricious and flawed characters who are nevertheless sympathetic. Jana is so well fleshed out and her life so tragic, her death is deeply felt. The tale is told in a nonlinear manner, with time jumps and interludes; the style is effective because it allows Dolan to keep shocking truths hidden until they're ready to be revealed." —Shelf Awareness, starred review

"Dolan is one of America's best new crime writers; if you haven't discovered him, you're in for a real treat." —Lansing State Journal 

"As in his first two thrillers, Dolan plays out the complications with a spider's patience." —Kirkus Reviews

"[The Last Deal Girl] is one of the greatest novels we have read in while…stellar piece of work…the plot is very gripping, and the author who seems to excel in character development pushes various narratives forward." —Mystery Tribune
 

"Presenting readers with just the right number of potential suspects, plot twists and turns, this fast-paced tale will sweep you along like a roiling river in spring spate. Don't plan on figuring out who the really bad guys are, though, because author Harry Dolan just won't let you. He is a master at creating suspense and, as always, treats his fans to a giant rollercoaster of a ride." —BookReporter  

Praise for Bad Things Happen and Very Bad Men

"Great f***ing book, man. I was totally hooked." —Stephen King



"You better believe [Dolan] has a gift for storytelling . . . the narrative comes with startling developments and nicely tricky reversals." —Marilyn Stasio, The New York Times Book Review



"One of the ten best mysteries of the year." —Tom Nolan, The Wall Street Journal



"[T]he novel is as well plotted as Agatha Christie at her best. . . . It's witty, sophisticated, suspenseful and endless fun . . . the best first novel I've read this year." —Patrick Anderson, The Washington Post



"Brilliant." —Chicago Tribune



"Harry Dolan has written an incredibly rich, smart read reminiscent of A Simple Plan or Presumed Innocent—not to mention that it's just a damn good story." —Karin Slaughter



"A wonderfully moody and atmospheric story reminiscent of the masters of the noir mysteries. Tightly plotted, sophisticated, and engrossing, this is a winner." —Nelson DeMille



"Dolan gets everything right in his debut. . . . Pitch-perfect prose and sophisticated characterizations drive the noirish plot, which offers plenty of unexpected twists. . . . The talent Dolan displays suggests he has a bright future." —Publishers Weekly (starred review)



"Brilliant. . . . I could go on for pages about the amazing amount of trust that Dolan generates from page one, letting us know that he won't make a false move. But I don't want to spoil your pleasure." —Dick Adler, Chicago Tribune



"A wonderfully moody and atmospheric story reminiscent of the masters of the noir mysteries. Tightly plotted, sophisticated, and engrossing, this is a winner."  — Nelson DeMille



"Bad Things Happen is a very smart, well-written roller coaster ride that is always threatening to hurl the reader out into roaring empty space.  Go along for the thrill ride!"—James Patterson



"Bad Things Happen builds like a Midwestern thunderhead into an atmosphere of darkness, dread, and impending doom. It is a hypnotically readable novel, with richly wrought characters, a corkscrew plot, and dialog worthy of Elmore Leonard. What a breathtaking debut." —Douglas Preston, author of The Monster of Florence and Blasphemy



 





 

Praise for Bad Things Happen:   "You better believe [Dolan] has a gift for storytelling . . . the narrative comes with startling developments and nicely tricky reversals." —Marilyn Stasio, The New York Times Book Review   "[T]he novel is as well plotted as Agatha Christie at her best. . . . It's witty, sophisticated, suspenseful and endless fun . . . the best first novel I've read this year." —Patrick Anderson, The Washington Post   "Brilliant." —Chicago Tribune     Praise for Very Bad Men:   "One of the ten best mysteries of the year." —Tom Nolan, The Wall Street Journal  
or
Not Currently Available for Direct Purchase