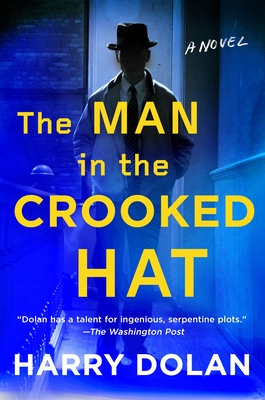 The Man in the Crooked Hat (Hardcover)
G.P. Putnam's Sons, 9780399157974, 368pp.
Publication Date: November 28, 2017
Other Editions of This Title:
Compact Disc (11/28/2017)
MP3 CD (11/28/2017)
Pre-Recorded Audio Player (1/1/2018)
* Individual store prices may vary.
Description
"A new master mystery writer emerges."--Forbes Magazine

One cryptic clue leads a desperate man into a labyrinthine puzzle of murder in the electrifying new novel from national bestselling author Harry Dolan.

There's a killer, and he wears a crooked hat.

Private investigator Jack Pellum has spent two years searching for the man who he believes murdered his wife--a man he last saw wearing a peacoat and a fedora. Months of posting fliers and combing through crime records yield no leads. Then a local writer commits suicide, and he leaves a bewildering message that may be the first breadcrumb in a winding trail of unsolved murders . . .

Michael Underhill is a philosophical man preoccupied by what-ifs and could-have-beens, but his life is finally coming together. He has a sweet and beautiful girlfriend, and together they're building their future home. Nothing will go wrong, not if Underhill has anything to say about it. The problem is, Underhill has a dark and secret past, and it's coming back to haunt him.

These two men are inexorably drawn together in a mystery where there is far more than meets the eye, and nothing can be taken for granted. Filled with devious reversals and razor-sharp tension, The Man in the Crooked Hat is a masterwork from "one of America's best new crime writers" (Lansing State Journal).
About the Author
Harry Dolan is the national bestselling author of Bad Things Happen, Very Bad Men, and The Last Dead Girl. He graduated from Colgate University, where he majored in philosophy and studied fiction-writing with the novelist Frederick Busch. A native of Rome, New York, he now lives in Ann Arbor, Michigan.
Praise For The Man in the Crooked Hat…
Praise for The Man in the Crooked Hat

"Mr. Dolan is a skillful writer. His well-balanced story is full of tension, sorrow, suspense and a lingering sense of uncertainty. . . . In the course of his gripping tale, Mr. Dolan makes even his strangest and most vile characters understandable—not  to excuse but to explain them, with appropriate measures of pity and terror."—The Wall Street Journal

"Clever . . . 'The Man in the Crooked Hat' expertly splinters into several investigations and delivers parallel stories of Jack's quest and Michael's rebuilding of his life. Each plot tendril blissfully leads to the next as Dolan illustrates intelligent plotting. A hint of humor and a flair for the ironic also elevate the story."—Associated Press

"A multi-layered, suspenseful mystery-thriller with nuanced characters guaranteed to propel the plot and hold any reader's interest."—Huffington Post

"An unpredictable mystery with an off-kilter plot and distinctive characters . . . with deft dialogue propelling its plot."—Milwaukee Journal Sentinel

"Relentless . . . Superior prose, plotting, and characterization put Dolan in the top rank of crime novelists."—Publishers Weekly (starred)

Praise for Harry Dolan:

"The twists and turns flow effortlessly. . . . Dolan's writing is excellent, and readers can look forward to his future efforts the way millions of us look forward to the ever more superb novels of Harlan Coben, Michael Connelly, Jonathan Kellerman and Sue Grafton. A new master mystery writer emerges."--ForbesMagazine

"Dolan has a talent for ingenious, serpentine plots. . . . [He] is an inventive, offbeat writer."--The Washington Post

"Dolan is one of America's best new crime writers; if you haven't discovered him, you're in for a real treat."--Lansing State Journal