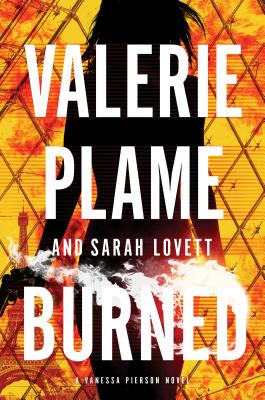 Burned
Hardcover

* Individual store prices may vary.
Other Editions of This Title:
Digital Audiobook (10/20/2014)
Paperback (10/6/2015)
Hardcover, Large Print (3/11/2015)
Description
Covert CIA ops officer Vanessa Pierson has dedicated her career to capturing one man: Bhoot, the world's most notorious nuclear arms dealer. That mission has been impeded by the murders of her assets, who were betrayed by a mole within her own agency. When she narrowly escapes death during a devastating explosion at the Louvre, Vanessa immediately suspects that Bhoot was the architect of the brazen terrorist attack. But when a previously unknown militant group claims responsibility for the bombing and promises even greater carnage, she is forced to rethink her initial assumptions especially when Bhoot himself contacts her to deny responsibility and confirm her suspicions that a miniaturized nuclear device may have fallen into hands more dangerous than his own. Of course, Vanessa knows Bhoot can t be trusted. But she begins to fear that a new and even greater threat to the world's fragile balance of power may have emerged.
As Vanessa's investigation leads her ever closer to the identity of the mole and the real terrorists plans, she finds herself drawn against all her better instincts into a perilous alliance with one of the world's most dangerous criminals a man who has become her darkest obsession . . . and perhaps her savior.
Moving swiftly from Paris, to Amsterdam, to Venice, to Istanbul, Burned is a nerve-shattering, intricately woven thriller about the mission to capture a brilliant and elusive mastermind and an exhilarating new chapter in the Vanessa Pierson saga.
Praise For Burned…
Praise for BLOWBACK

"A high-octane tale of deception." –Entertainment Weekly

"A tense spy thriller, with a smart, sexy heroine, international danger and yes, a love interest…. [Blowback] reads like Clancy, Cussler, or Ludlum…Destined to become another great part of American literary fiction." –The Huffington Post

"A classic spy tale." –The Daily Beast

"A fine, fast-moving spy saga…. Pierson emerges as a smart, sexy action hero, a kind of James Bond with high heels, short skirts and a Glock in her purse….Check out this seductive spy; she's likely to be around for a while."  –The Washington Post

"I couldn't put it down! Blowback is beautifully written, incredibly well-informed and an amazing treatment of profound female courage. This is not even a genre I follow—but this book transcends genre." –Naomi Wolf

"A tightly wound, vigorously deployed thriller echoing the real-life stories of CIA agents and their enemies." –Library Journal (starred)

"Propulsive and accurate." –Salon

"Want to read a thriller about the real CIA and how it actually works? Then dive into this corker from former agent Valerie Plame and Sarah Lovett." —James Patterson

"Great storytelling, real insider authenticity, and above all a fascinating main character in Vanessa Pierson. And maybe those initials are not a coincidence—sometimes fiction can reveal things that nonfiction can't." —Lee Child

"Plame and Lovett have hit a home run in their fiction debut.... Blowback is an outstanding addition to the thriller genre and ushers in a writing team that I hope will enthrall us for years to come." —David Baldacci

"One wild ride, a riveting cat-and-mouse game set within the world of international terrorism, covert operations, blackmarket WMDs, and brutal assassinations. Plame and Lovett know their stuff cold and have written a realistic, vivid, fast moving story full of shocking twists and unexpected turns. This is truly an epic thriller--the first in what promises to be a fantastic series. I highly recommend it." —Douglas Preston
  "Blowback is a stunning debut novel by former CIA agent Valerie Plame and suspense writer Sarah Lovett—a thriller rich with international intrigue and details of spycraft and secret ops that only an insider could bring to the genre. It's a well-told tale of high stakes and lives on the line, starring a brilliant, edgy protagonist I can't wait to see more of. A powerful read." —Linda Fairstein

"With an alpha female heroine and a plot as familiar as her own backyard, Blowback is a stunning debut. Here's to many more." –Steve Berry
Blue Rider Press, 9780399158216, 356pp.
Publication Date: October 21, 2014
About the Author
Valerie Plame, a former CIA covert operations officer, was born on Elmendorf Air Force Base in Anchorage, Alaska. Her career in the CIA included assignments in counterproliferation operations, ensuring that enemies of the United States could not threaten America with weapons of mass destruction. She and her husband, Ambassador Joseph Wilson, are the parents of twins. Plame and her family live in New Mexico. Sarah Lovett s five suspense novels featuring forensic psychologist Dr. Sylvia Strange have been published in the United States and around the world. A native Californian, she lives with her family in Santa Fe, New Mexico."
or
Not Currently Available for Direct Purchase