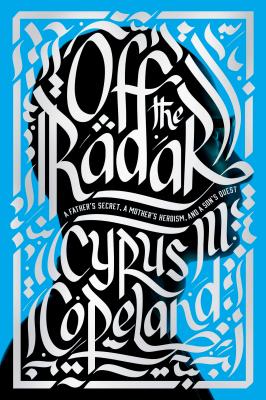 Off the Radar
A Father's Secret, a Mother's Heroism, and a Son's Quest
Hardcover

* Individual store prices may vary.
Description
A spy story, a mystery, a father-son heartbreaker: Cyrus Copeland seeks the truth about his father, an American executive arrested in Iran for spying at the time of the 1979 hostage crisis, then put on trial for his life in a Revolutionary Court.

As a young boy living in Tehran in 1979, Cyrus Copeland—child of an American father and Iranian mother—never dreamed that his dad, an employee of Westinghouse, would be in danger for his life. That is, until the moment his father was arrested on espionage charges and put on trial in a Revolutionary Court. Almost simultaneously, more than fifty other Americans were taken hostage at the U.S. Embassy by Islamist militants, an event that has recently captivated the world again with the success of the book and film Argo. With the hostage crisis receiving most of the attention from the media and White House, it was largely left to Copeland's mother and family to negotiate his father's reprieve from the firing squad. Now, more than thirty years later, Copeland sets out to find the truth about his father and his role in the Iranian hostage crisis. Was he in fact an intelligence operative—a weapons-system expert—caught red-handed by the Iranian regime, or was he innocent all along? Part mystery, part reportage, and part detective work, Copeland's brilliantly original family epic is a powerful memoir and adventure. 
Praise For Off the Radar: A Father's Secret, a Mother's Heroism, and a Son's Quest…
WINNER, THE CHAUTAUQUA PRIZE

"A personal, emotional, and ultimately satisfying journey of a son trying to discover who his father really was... This brilliant, touching tale of espionage, discovering family, and balancing cultures is recommended for fans of memoirs, spy stories, and Iranian culture."—Library Journal (starred review)

"Some people have a story so extraordinary that it must be told. Cyrus Copeland's Off The Radar is one of those tales. I simply could not put this riveting book down. And now, I'm waiting for someone to make a movie about his extraordinary mother, the true heroine of this book."—Firoozeh Dumas, New York Times bestselling author of Funny in Farsi.

"An expansive and eloquent memoir that reads like a real-life spy novel … There are lessons both personal and political in the legacy of strife [Copeland] inherits, and Off the Radar explores both with pitch-perfect tone and deep emotion."—Booklist

"A fascinating look into Iran at the time of immense change. It features several great stories, including Max's attempted escape, the trial and Cyrus' decision to return despite the danger.  Even more interesting now considering the U.S.'s recent diplomatic moves there."—Best of Books

"Copeland . . . explores the mystery surrounding his father's controversial persecution in revolutionary-era Iran.  The author attempts to reclaim his family's pre-revolutionary past and uncover the mysterious life and death of his father, American Max Copeland, who was married to (and eventually represented by) the first female lawyer of the Islamic Republic. . . .  [A]n engaging narrative . . . that highlights his family's resilience in the face of challenging, unforeseen political circumstances. Along the way, the author's personal immersion in his family's history helps him come to terms with his Iranian heritage and allows him to build a much-needed figurative bridge between two very different but equally misunderstood cultures. Both a gripping personal story and an insightful historical-cultural study."—Kirkus Reviews

Praise for Farewell, Godspeed

"Eulogies as love stories? They most certainly are. This is an extraordinary collection of 64 good-byes to the famous..."—The Boston Globe

It is impossible to read these tributes without feeling immense pride... and without weeping, a nourishing experience of humility."—The Baltimore Sun

"A fascinating collection of memorial remarks about 50 well-known figures."—The Atlanta Journal-Constitution

"Copeland has compiled 64 memorials to larger-than-life individuals, written by eulogizers who are equally unforgettable..."—The Philadelphia Inquirer
Blue Rider Press, 9780399158506, 368pp.
Publication Date: March 24, 2015
About the Author
Cyrus Copeland, a former copywriter and advertising executive, is the editor of two collections of eulogies, Farewell, Godspeed: The Greatest Eulogies of Our Time and A Wonderful Life: 50 Eulogies to Lift the Spirit, and Off the Radar: A Father's Secret, a Mother's Heroism, and a Son's Quest. He lives in New York City.
or
Not Currently Available for Direct Purchase