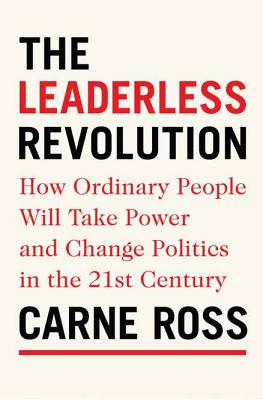 The Leaderless Revolution (Hardcover)
How Ordinary People Will Take Power and Change Politics in the 21st Century
Blue Rider Press, 9780399158728, 272pp.
Publication Date: January 19, 2012
Other Editions of This Title:
Paperback (6/7/2012)
Paperback (2/26/2013)
Hardcover (9/1/2011)
* Individual store prices may vary.
Description
"The Leaderless Revolution" explains why our government institutions are inadequate to the task of solving major problems and offers a set of steps we can take to create lasting and workable solutions ourselves. In taking these steps, we can not only reclaim the control we have lost, but also a sense of meaning and community so elusive in the current circumstance. In a day and age when things feel bleak and beyond our control, this powerful and personal book will revive one's sense of hope that a better, more just and equitable order lies within our reach-if only we are willing to grasp it.
About the Author
Carne Ross was a high-flying British diplomat who focused on many of the world's toughest issues, including Afghanistan, terrorism, and climate change. After working on Iraqi WMD and sanctions, he was one of only two British diplomats to resign over the 2003 Iraq War. That experience forced him to confront the deeper problems of a volatile, globalized world. A frequent commentator on current affairs on CNN, BBC, and Al Jazeera, and a contributor to "The Guardian," Ross also founded, and now runs, Independent Diplomat, an advisory group that assists democratic countries and political groups around the world. He lives in New York City.
Praise For The Leaderless Revolution: How Ordinary People Will Take Power and Change Politics in the 21st Century…
Praise for THE LEADERLESS REVOLUTION by Carne Ross: "An impassioned, idealistic critique of the state of global politics and the deepening rift between those with power and those without."
—The Guardian "So bold, so full of incontestable truths and overwhelming convictions, that it should be read by every diplomat, politician and thinking citizen with the courage to pick it up."
—John le Carré "It's been a long time since I've read a more interesting, informing and inspiring book than 'The Leaderless Revolution."
—Bill Moyers "Intriguing … the author provides many fascinating personal insights into the crises not only in Iraq, but also Afghanistan, Kosovo, Mauretania and Sudan."—Kirkus Reviews
or
Not Currently Available for Direct Purchase