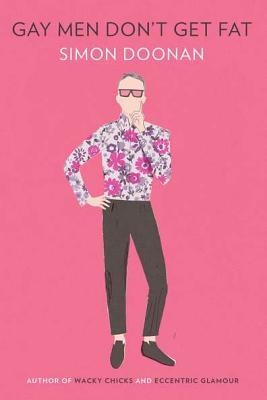 Gay Men Don't Get Fat (Hardcover)
Blue Rider Press, 9780399158735, 272pp.
Publication Date: January 5, 2012
* Individual store prices may vary.
or
Not Currently Available for Direct Purchase
Description
Simon Doonan knows that when it comes to style, the gays are the chosen people. A second anthropological truth comes to him midway through a turkey burger with no bun, at an otherwise hetero barbecue: Do the straight people have any idea how many calories are in the guacamole? In this hilarious discourse on and guide to the well-lived life, Doonan goes far beyond the secrets to eating like the French he proves that gay men really are French women, from their delight in fashion, to their brilliant choices in accessories and decor, to their awe-inspiring ability to limit calorie intake. A Gucci-wearing Margaret Mead at heart, Doonan offers his own inimitable life experiences and uncanny insights into makes gay people driven to live every day feeling their best, and proves that they have just as much and possibly better wisdom, advice, and inspiration beyond the same old diet and exercise tips.
So put down that bag of Pirate's Booty and pick up this fierce and fabulous book. From slimming jaunts through Capri in the evening to an intrepid Bear hunt (if you have to ask, you have to read this book and find out for yourself), "Gay Men Don t Get Fat" is the ultimate approach to a glamorous lifestyle plus, you are guaranteed to laugh away the pounds
About the Author
Simon Doonan is the author of several books, including "Wacky Chicks," "Confessions of a Window Dresser," and "Beautiful People," which was adapted for television in the UK. Originally from England, he worked on Savile Row before becoming the creative director for Barneys New York, where he designed legendary window displays for more than twenty years. Formerly a columnist for "The New York Observer," he is now a contributor to Slate.com, and has appeared on "Gossip Girl," "Iron Chef America," "America's Next Top Model," and elsewhere. Doonan lives in New York with his husband, Jonathan Adler.
Praise For Gay Men Don't Get Fat…
Praise for GAY MEN DON'T GET FAT by Simon Doonan: "Simon Doonan is one funny gay nugget."
—Chelsea Handler "If I were really short, gay, and way funnier than I am now, I would try to pass myself off as Simon Doonan."
—Malcolm Gladwell "Simon Doonan is the Auntie Mame every up-and-coming future legend should have, the gay best friend who always gives it to you straight."
—RuPaul "Simon writes like a lethal combo of Robert Benchley and Dorothy Parker. I laughed so hard while reading this book I nearly split my Spanx."
—Joan Rivers "The most un-tragic book about being gay ever written."
—John Waters "Dining with Mr. Doonan is like lunching with the 'Jersey Shore'-era grandnephew of Oscar Wilde....there are times when his thoughts on the sexual orientation of food can be unexpectedly eye-opening."
—Jeff Gordinier, The New York Times "[D]eliciously mischievous wit...Doonan is the David Sedaris of the style universe."
—Christopher Muther, The Boston Globe "Blisteringly funny."
—Kirkus Reviews "[Gay Men Don't Get Fat] will certainly have you laughing until your sides hurt."
—Alyssa Vingan, Marie Claire "In addition to educating those not-in-the-know, Doonan regales readers with tongue-in-cheek commentary and witchy barbs that bespeak a more militant Joan Rivers."
—Publishers Weekly "The sense of humor … is matched by a very real motivation to empower women."—Kerry Pieri, Harper's Bazaar
Advertisement