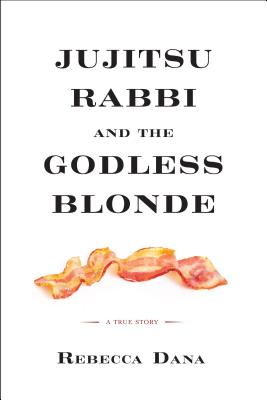 Jujitsu Rabbi and the Godless Blonde
A True Story
Hardcover

* Individual store prices may vary.
Other Editions of This Title:
Digital Audiobook (1/23/2013)
Paperback (1/7/2014)
Description
The ultimate fish-out-of-water tale . . .
A child who never quite fit in, Rebecca Dana worshipped at the altar of Truman Capote and Nora Ephron, dreaming of one day ditching Pittsburgh and moving to New York, her Jerusalem. After graduating from college, she made her way to the city to begin her destiny. For a time, life turned out exactly as she d planned: glamorous parties; beautiful people; the perfect job, apartment, and man. But when it all came crashing down, she found herself catapulted into another world. She moves into Brooklyn's enormous Lubavitch community, and lives with Cosmo, a thirty-year-old Russian rabbi who practices jujitsu on the side.
While Cosmo, disenchanted with Orthodoxy, flirts with leaving the community, Rebecca faces the fact that her religion the books, magazines, TV shows, and movies that made New York seem like salvation has also failed her. As she shuttles between the world of religious extremism and the world of secular excess, Rebecca goes on a search for meaning.
Trenchantly observant, entertaining as hell, a mix of Shalom Auslander and "The Odd Couple," "Jujitsu Rabbi and the Godless Blonde" is a thought-provoking coming-of-age story for the twenty-first century.
Praise For Jujitsu Rabbi and the Godless Blonde: A True Story…
"For a generation of women who grew up watching Sex and the City, Manhattan is the Promised Land—or as Rebecca Dana puts it in her hilarious, self-deprecating new memoir, it's 'my Jerusalem—the shining city off in the distance, the only place to go'. . . .  [An] insightful tale of two fish out of water." —O Magazine   "Charming … a true original. A-" —Entertainment Weekly   "Startling and delightful." —Vanity Fair   "[A] charming, frequently hilarious memoir." —The New York Observer   "Thoughtful, archly funny." —Publishers Weekly   "Funny, wily, audacious, and captivating." —Booklist   "Fascinating and engrossing, reading Jujitsu Rabbi and the Godless Blonde is like looking into the windows of compelling people you want to both meet and love. By the end of the book you will do just that." —Jenny Lawson, #1 New York Times–bestselling author of Let's Pretend This Never Happened   "Rebecca Dana meets the jujitsu rabbi in the same place fairy tale meets reality, which is the same place all of us meet our lives: nowhere near where we expected. Let me be clear: I've never met the author, and I had neither the time nor the inclination to blurb this book, but I started reading her odd, engrossing, tragicomic coming-of-adulthood tale and couldn't stop." —Deborah Copaken Kogan, author of The Red Book and Shutterbabe   "I'm kvelling!! Rebecca Dana's brilliant memoir touchingly and daringly juxtaposes the mysterious world of Orthodox Jewry with the even more mysterious world of fashion. I was amused and ver clempt, all at the same time." —Simon Doonan, author of Gay Men Don't Get Fat   "Rebecca Dana's story is a lot like New York City—bustling and busy, packed with Jews and jobs, faith and friendship, accident and ambition. With Jujitsu Rabbi and the Godless Blonde, Dana joins the ranks of women who have come to New York, forged identities on their own alongside improbable allies, and lived to tell the tale with wit and grace." —Rebecca Traister, author of Big Girls Don't Cry   "Rebecca Dana's funny, juicy memoir of her Brooklyn year with a most original housemate goes down like a terrific New York cocktail—with some sweetness, a snappy twist of sublime, and plenty of heart." —Julie Metz, New York Times–bestselling author of Perfection   "This is the beautifully told story of every smart young woman's start in the big city, where dreams first come true and then they rain like hell all over you. Rebecca Dana is wise yet self-effacing, hysterical but dark. This book is the perfect photograph of the last agonies of being young." —Choire Sicha, The Awl   "A fantastic read. Will make you want to take your life by the horns." —Morgan Spurlock   "Suffused with shimmering prose and a kick-ass spirit, Jujitsu Rabbi and the Godless Blonde is a brave and brilliant New York coming-of-age odyssey. With an eye for the damning detail and an ear for the heart-soaring quote, Rebecca Dana has delivered a devilishly funny true story brimming with pathos, oddball characters, and beautiful revelations. I haven't enjoyed a memoir this much in years." —Don Van Natta Jr., New York Times–bestselling author and Pulitzer Prize winner  
Putnam Adult, 9780399158773, 288pp.
Publication Date: January 24, 2013
About the Author
Rebecca Dana is a writer and journalist in New York. She is a former senior correspondent for "Newsweek "and "The Daily Beast," where she wrote the weekly Social Diaries magazine column and reported on fashion, culture and entertainment. She has been a featured commentator on such shows as the "Today "show, "The Joy Behar Show," "Inside Edition," "Access Hollyw"ood, and NPR s On the Media and Fair Game with Faith Salie. She has made numerous appearances on MSNBC and CNN.Before joining "The Daily Beast," Dana was a staff writer for "The Wall Street Journal "and "The New York Observer." She has also been published in: "Rolling Stone Magazine," "Vanity Fair Italia," "Slate," "Men s Vogue," "The Washington Post," "The New Orleans Times-Picayune," "Men s Journal," and "The New York "Times. She attended Yale, where she was the editor in chief of the Yale Daily News. She lives in Manhattan with her husband."
or
Not Currently Available for Direct Purchase