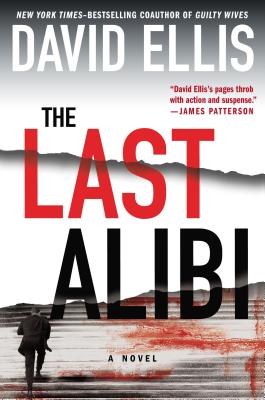 The Last Alibi
Hardcover

* Individual store prices may vary.
Description
Defense attorney Jason Kolarich is back in another edge-of-your-seat thriller . . . and this time he may find himself in over his head, in more ways than one.
James Drinker is a bit of an oddball. A funny-looking, geeky loner, he walks into Jason Kolarich's office one day with a preemptive concern: two women have recently been murdered, seemingly by the same killer, and Drinker thinks he will be the police's main suspect. One woman was his ex-girlfriend, he says, and the other was a friend. He's the only link between the victims and he has no alibi for the night of either murder--surely the police will realize it soon. Believing he's the target of a frame-up, Drinker hires Kolarich for his defense.
Something about James Drinker seems off from the start, but Kolarich doesn't give it too much thought. Until another murder occurs. And then another. And as he begins to probe his client's life and story more closely, it quickly becomes clear that nothing about James Drinker is what it seems . . . and that the target of the frame-up isn't Drinker, but Kolarich.
Unable to stop a serial killer--and prove his own innocence--without breaking his sworn attorney-client privilege, Jason Kolarich must hunt for the truth about James Drinker, the series of brutal murders, and why he's been set up to take the fall. The answers will be beyond anything he could have imagined.
Praise For The Last Alibi…
Praise for The Last Alibi
 
"The Last Alibi is exciting, fresh and suspenseful."—Shelf Awareness (starred review)
 
"Incredible tension . . . Ellis obviously knows the inside of a courtroom, bringing a sense of realism to the courtroom drama, while keeping the pace hopping. Ellis's handling of witty dialogue and often flat-out sarcasm is a joy to read—rivaling Harlan Coben. The pace was furious while the suspense kept me squirming in my seat."—Crimespreee Magazine
 
"Following the complicated twists, turns and double crosses . . . will keep readers guessing.  [A] vintage Ellis thriller."—Fort Worth Star-Telegram
 
"[There are] enough surprises in The Last Alibi to puzzle the most discerning reader."—Examiner.com
 
"[The plot] holds together with palpable tension, peppered with secrets, moral conflicts and compelling characters."—Chicago Tribune
 
"A complex courtroom thriller filled with tension and twists as the protagonist stands trial for murder . . . Ellis ranks among the best writers in the genre, and this book will keep readers entertained from start to finish."—Kirkus Reviews (starred review)
 
"Ellis' plotting is playful yet airtight and infused with enough warped psychology to provide lip-chewing thrills. This fourth Jason Kolarich novel is an excellent choice for readers who seek connections with powerful characters."—Booklist
 
"Ellis conceals and reveals information like a skilled poker player . . . the plot twists keep readers guessing throughout."—Publishers Weekly
 
Praise for David Ellis
 
"Ellis [writes] solid, entertaining, well-crafted novels about crime and passion and greed in the tradition of Scott Turow and John Grisham."—Chicago Tribune
 
"David Ellis certainly knows how to plot up a storm."—Chicago Tribune
 
"A top-notch thriller writer."—Booklist
 
"A writer who expands his ambition and artistry from book to book."
—Publisher's Weekly
 
"Ellis balances plot, setting, pacing, characterization and surprises in just the right measure to create a compelling high-stakes drama."—The Washington Post Book World
 
"Ellis knows the legal system well enough to know where the loopholes and escape hatches hide."—San Francisco Chronicle
Putnam Adult, 9780399158803, 465pp.
Publication Date: August 1, 2013
About the Author
David Ellis is the author of ten thrillers, including most recently "The Wrong Man," and the forthcoming "Mistress," written with James Patterson. He is an attorney in Chicago who served as the House Prosecutor who tried and impeached Governor Rod Blagojevich before the Illinois Senate.
or
Not Currently Available for Direct Purchase