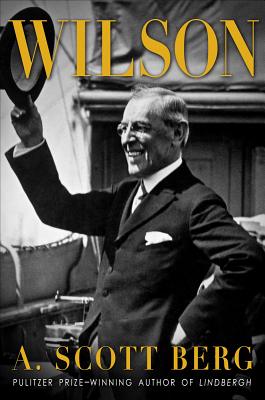 Wilson
Hardcover

* Individual store prices may vary.
Other Editions of This Title:
Paperback (9/2/2014)
Hardcover (10/1/2014)
Hardcover, Large Print (3/26/2014)
CD-Audio (9/10/2013)
CD-Audio (9/10/2013)
Description
Longlisted for the 2014 PEN/Jacqueline Bograd Weld Award for Biography
With the prescience that all truly great biographers possess, Berg discovered in Woodrow Wilson a figure who would understand Washington's current state of affairs. Vanity Fair
A brilliant biography that still resonates in Washington today. Doris Kearns Goodwin
From Pulitzer Prize winning, #1 New York Times bestselling author A. Scott Berg comes the definitive and revelatory biography of one of the great American figures of modern times.
One hundred years after his inauguration, Woodrow Wilson still stands as one of the most influential figures of the twentieth century, and one of the most enigmatic. And now, after more than a decade of research and writing, Pulitzer Prize-winning author A. Scott Berg has completed Wilson--the most personal and penetrating biography ever written about the 28th President.
In addition to the hundreds of thousands of documents in the Wilson Archives, Berg was the first biographer to gain access to two recently-discovered caches of papers belonging to those close to Wilson. From this material, Berg was able to add countless details--even several unknown events--that fill in missing pieces of Wilson's character and cast new light on his entire life.
From the scholar-President who ushered the country through its first great world war to the man of intense passion and turbulence, from the idealist determined to make the world safe for democracy to the stroke-crippled leader whose incapacity and the subterfuges around it were among the century's greatest secrets, the result is an intimate portrait written with a particularly contemporary point of view a book at once magisterial and deeply emotional about the whole of Wilson's life, accomplishments, and failings. This is not just Wilson the icon but Wilson the man.
Praise For Wilson…
Praise for Wilson
 
"A brilliant biography that still resonates in Washington today."—Doris Kearns Goodwin

"Telling the story of [Wilson's] life, his visionary ideas and his legacy has occupied four generations of American historians. But until now, no one has gotten him quite right. Not until A. Scott Berg, with his landmark biography "Wilson." In a meticulously researched and generously written new biography, we have an appraisal of the 28th president that is neither diminishing nor hagiographic. Rather, Berg, one of the pre-eminent biographers of our time, has placed Wilson in his correct place in our nation's history. In many ways, he accomplishes for Wilson what David McCullough's biographies of Harry Truman and John Adams did for their subjects: It secures Wilson's place among the top tier of American presidents."—Louisville Courier-Journal
 
"A. Scott Berg's new 800-page biography, Wilson (**** out of four), spares no detail. It takes a certain quixotic passion to give us Wilson…with such thorough fact-sifting that we emerge, stunned…Wilson is [Berg's] most ambitious if least sexy undertaking, scripturally dense, a codex that richly explains Wilson's policy revolution while establishing the man's full humanity, his flaws and failings…Berg mines the record in all its complexity and tragedy." –USA Today, 4 star review
 
"Magesterial . . . at once intimate, sweeping and authoritative."--Los Angeles Times
 
"Breathtaking…Berg gives Wilson a fresh look, restoring him to the place he occupied – the idealist in politics – before recent biographers wrote him off…Now, thanks to Berg, we know a more fully rounded Wilson." –Boston Globe
 
"Mr. Berg is a terrific researcher, and 'Wilson' exhumes hundreds of fresh quotes and details...A very good work of history." –Wall Street Journal
 
"Berg tells the story of Wilson, the man, very well indeed…he has a novelist's eye for the striking detail, and a vivid prose style." –New York Times Book Review
 
"A splendid look at [Wilson's] life and legacy…In this majestic biography, [Berg] succeeds in capturing Wilson the man as well as Wilson the politician…With the sweep of his narrative, the wealth of his detail, the clarity of his prose and the breadth of his vision, Berg has produced an insightful and intimate work that is likely to stand as the definitive biography of one of the nation's most  consequential leaders." –Richmond Times-Dispatch
 
"Wilson remains unique among American presidents and A. Scott Berg has written a superb biography of him. It provides an account of Wilson's life and presidency rich in detail and moving in its finer moments of narrative."—The Australian
 
"For readers coming to Wilson for the first time, Mr. Berg's biography tells the story of this singular man thoroughly." –Pittsburgh Post-Gazette
 
"Berg is a masterful biographer…[Wilson is] absorbing." –Miami Herald
 
"Marvelously detailed."  –Washingtonian
 
"A work of spectacular artistry and objective workmanship…should be required reading for any course of study that examines American history after 1865…Berg's illumination of the president's humanity is riveting…[A] treasure" –Ft. Worth Star-Telegram
 
"By far the best single study of Wilson's life and times…Berg's study should remain the standard biography of this tragic figure for a long time." –Philadelphia Inquirer
 
"Succeeds magnificently in elucidating Woodrow Wilson the man. Quietly, methodically, intuitively, the author examines almost every aspect of his subject's life, from the religious to the sexual and almost everything in between. His account…is nuanced and revealing." – The Washington News
 
"The same penetrating illumination, meaningful insight and readable prose that Berg brought to his biography of Charles Lindbergh is on display throughout Wilson, and readers can walk away with a profound and unique perspective on the man, offered by one of our most gifted biographers." – Deseret News
 
"No previous biographer has told [Wilson's] story so well…Unlike his scholarly predecessors, [Berg] actually convinces you to like the man…[An] always graceful portrait."– The Daily Beast
 
"With the prescience that all truly great biographers possess, Berg discovered in Woodrow Wilson a figure who would understand Washington's current state of affairs." – Vanity Fair
 
"[Berg] renders Wilson with an astute, sensitive understanding of the man and his presidency. Berg's research is deep and thorough."—Booklist (starred review)
 
"Accomplished biographer Berg emphasizes the extraordinary talents of this unlikely president in an impressive, nearly hagiographic account . . . Readable, authoritative and, most usefully, inspiring."—Kirkus Reviews
 
"A thorough, entertaining account of our 28th president . . . [an] excellent biography."—Library Journal (starred review)
 
Rraise for A. Scott Berg's Lindbergh

"Berg's book is an extraordinary achievement. In his authoritative chronicle, Berg has allowed the inconsistencies, nuances, and tribulations of Lindbergh's life to speak for themselves without judgment or speculation. In doing so, he has given us the definitive account of a dramatic and disturbing American story."--Los Angeles Times Book Review

"Charles Lindbergh is the ultimate American life, and Berg's new biography is the ultimate exploration of that life. In an astonishing biography of a man who personified the future tense, no sentence is overwritten, no passage overwrought."--Boston Sunday Globe

"Berg's monumental new biography is a richly detailed and deeply nuanced examination of a historic life in all its complexity. This is fall's must-read biography."--Seattle Post-Intelligencer

"Berg turns that historic flight into a cogent and thoroughly gripping account that conveys all the magic, danger and courage of the young pilot's achievement. A similar narrative prowess informs Berg's account of the 1932 kidnapping of Lindbergh's infant son and the subsequent trial of Hauptmann – an account that reads, at once, as a  harrowing thriller and a sobering study in the unreckoned consequences of fame."--Michiko Kakutani, The New York Times

"A superb biography."--Time Magazine

"The most outstanding piece of nonfiction that I have read this year. Berg does a spectacular job of establishing why Lindbergh proves such a powerful icon for the 20th century. A substantial piece of history that illuminates an important figure in world history. It's the kind of book that took almost a decade to create. And it's worth it."--USA Today

"Berg brings us about as close as I suspect we will ever get to the man himself."--The New York Times Book Review
 
Putnam Adult, 9780399159213, 817pp.
Publication Date: September 10, 2013
About the Author
A. Scott Berg is the author of four bestselling biographies: Max Perkins: Editor of Genius, winner of the National Book Award; Goldwyn; Lindbergh, winner of the Pulitzer Prize; and Kate Remembered. He lives in Los Angeles.
or
Not Currently Available for Direct Purchase