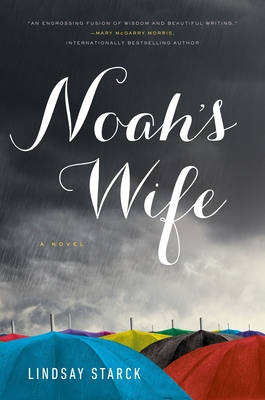 Noah's Wife
Hardcover

* Individual store prices may vary.
Description
In the tradition of Daniel Wallace's Big Fish and Eowyn Ivey's The Snow Child, a gorgeously written and fable-like novel recasting Noah's Ark as a story of relationships, courage, resilience, and hope.

"Variously romantic, symbolic, philosophical, feminist, and fanciful, this is an atmospheric tale that meanders to a sweetly rousing conclusion. . . . Forget the ark, forget the patriarch. It's the women who tend to triumph in this modern take on an Old Testament parable." – Kirkus Reviews
  
In loving Noah, his wife never imagined she'd end up in this gray and wet little town where it's been raining for as long as anyone can remember. Newly appointed as pastor, Noah is determined to bring the eccentric townspeople back to the church, but the members of his congregation only want to keep their homes afloat. As the water swallows up the houses, the renowned zoo, and the single highway out of town, Noah, his wife, and their new neighbors must confront not only the savage forces of nature but also the fragile ties that bind them to one another.

Poignant and whimsical, playful and wise, Noah's Wife challenges our expectations of love, commitment, and redemption. By reimagining this classic story in a new and modern light, the novel asks: how do we know when to stay and when it's time to go?



Praise For Noah's Wife…
**A Woman's Day Book Club Pick for February**

"[An] impressive debut novel . . . Starck's talent is on display in her vivid portrayals." -- Minneapolis StarTribune

"Starck inventively imagines Old Testament stories within a contemporary setting. . . . the biblical motifs of pairs, exodus, exile, prophecy, and hope echo strongly. Starck's bright voice should hold particular appeal for fans of Barbara Kingsolver and Sara Gruen." -- Publishers Weekly

"Starck uses themes from [the] faith-based tale to illustrate human frailty and the power of hope. . . . the writing [is] absorbing and characters as colorful as the setting is bleak." – Milwaukee Magazine

"There may be animals, an imminent flood and a guy named Noah, but Noah's Wife is not the familiar Genesis account. . . . First-time author Lindsay Starck excels at detailing her characters' emotional and physical responses to this bizarre meteorological situation. . . . Starck writes thoughtfully, with a real ear for the rhythm of language and talent for finding surprising moments of humor admist the dark nights of the soul her characters face. With wisdom and insight, Starck captures all their losing, leaving behind and longing." -- BookPage

"Starck's unusual, often charmingly phrased fable is constructed around the responses of a band of individuals to life's unpredictable challenges. . . . Variously romantic, symbolic, philosophical, feminist, and fanciful, this is an atmospheric tale that meanders to a sweetly rousing conclusion. Forget the ark, forget the patriarch. It's the women who tend to triumph in this modern take on an Old Testament parable." – Kirkus Reviews

"The characters' ultimate struggle is a lovely reminder that – differences aside – we're all in the same boat." -- Woman's Day

"A testament to the power of believing in yourself, the journey of Noah's wife to define herself on her own terms runs parallel to the internal struggles of the town's citizens. . . . While the story does not exactly follow the structure of the biblical Noah tale, the strong narrative voice gives the impression of a modern-day fable. By turns humorous and moving, this mixture of allegory and offbeat characters will delight readers." -- Shelf Awareness

"Clever . . . the book not only stays afloat but gains steam as it reaches the farcical and engrossing climax. Noah's Wife has plenty to say . . . taking aim at contemporary gender roles without going overboard." --MyAJC.com

"Told with wit and creativity. . . . Starck has crafted a riveting tale of faith and doubt, love and friendship, and family and belonging. [Noah's Wife] will delight and intrigue readers to think in new ways about the allegory of Noah's Ark." -- Milwaukee Shepherd Express

"Starck's novel retains the lovely strangeness of the biblical while exploring very real 21st century concerns. . . . God may be largely absent from the novel, but the issue of faith—especially in others, in community—is at the heart of Noah's Wife. Though the townspeople seem to reject both religion and science, they have, it seems, each other to rely on." -- Southern Literary Review

"Through a compelling cast of characters, Starck illustrates the struggle to maintain hope and faith when confronted with loss and destruction . . . [a] stunning first novel." –The Charleston Post and Courier

"Noah's Wife may be a contemporary allegory, but Lindsay Starck is a classic storyteller dealing with human folly in the face of nature's ungovernable force.  Her novel is an engrossing fusion of wisdom and beautiful writing." —Mary McGarry Morris, internationally bestselling author of Light from a Distance Star

"The rain itself is a character in the book, relentless and growing ever more foreboding. While the novel's themes are weighty and the forecast bleak, Starck's poetic tone keeps the tone light, achieving a modern, fable-like quality. Central to it all are the questions of staying committed or knowing when it's time to let go." -- Asheville Citizen-Times

"Starck has crafted a quirky tale with several strong characters . . . her modern-day fable of faith, hope, loss, and illusion is intriguing." -- Booklist 

"A modern allegory drawn from motifs of the biblical flood story." -- Raleigh News & Observer

"A debut of biblical proportions." -- Library Journal

"Noah's Wife is a thinking reader's book. Despite its basis, [this] debut has more to do with faith than religion. Noah has faith in his abilities, his wife has faith in him, and the townspeople have faith that it will stop raining. . . . a study of character, of faith, of relationships and individuality." -- Roanoke Times

"Noah's Wife by Lindsay Starck is a riveting fable based loosely on the biblical story of Noah's Ark. Only this time, it is Noah's wife herself who embraces the ideas of faith and community, and her strength and compassion give this story a powerful, modern twist. Although the novel is filled with such exquisite detail that you may want to read this while sitting under an umbrella, Starck's strength is in her characters. She peoples the sodden town with compelling, often hilarious individuals, each of whom will remain with you long after you turn the last page."—Melanie Benjamin, New York Times–bestselling author of The Aviator's Wife
 
"If I found out this book had been translated from French, I would learn French in order to be able to read it in the language it was originally written in. I love it." —Daniel Wallace, New York Times-bestselling author of Big Fish

"Milwaukee Public Library raised a writer in Lindsay Starck." -- Milwaukee Journal Sentinel
G.P. Putnam's Sons, 9780399159237, 400pp.
Publication Date: January 26, 2016
About the Author
Lindsay Starck was born in Wisconsin and raised in the Milwaukee Public Library. She studied literature and writing at Yale, Notre Dame, and the University of North Carolina at Chapel Hill. She currently writes and teaches at Augsburg College in Minneapolis, Minnesota, where she lives with her husband and their golden retriever. Noah's Wife is her first novel.