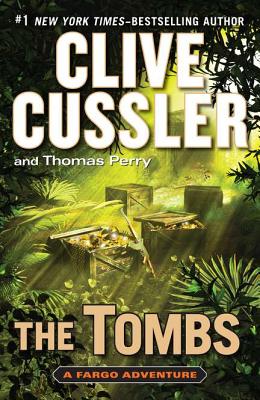 The Tombs (Hardcover)
Putnam Adult, 9780399159268, 384pp.
Publication Date: September 4, 2012
* Individual store prices may vary.
Description
Husband-and-wife team Sam and Remi Fargo are intrigued when an archaeologist friend requests their help excavating a top secret historical site. What they find will set them on a hunt for a prize greater than they could ever imagine. The clues point to the hidden tomb of Attila the Hun, the High King who was reportedly buried with a vast fortune of gold and jewels and plunder . . . a bounty that has never been found. As they follow the trail through Hungary, Italy, France, Russia, and Kazakhstan a trail that they discover leads them not to one tomb, but five the Fargos will find themselves pitted against a thieving group of amateur treasure hunters, a cunning Russian businessman, and a ruthless Hungarian who claims direct descent from Attila himself . . . and will stop at nothing to claim the tombs riches as his own.
About the Author
Clive Cussler is author of many "New York Times "bestsellers, most recently "The Thief" and "The Storm."" "He lives in Arizona.

Thomas Perry is the author of twenty novels, including the Edgar Award winning "The" "Butcher s Boy" and the acclaimed Jane Whitfield series, most recently "Poison Flower." He lives in Southern California."
Praise For The Tombs…
Praise for The Tombs:

"This adventure series stands as one of the crown jewels in the Cussler empire."—Publishers Weekly
Normal 0 false false false MicrosoftInternetExplorer4 /* Style Definitions */ table.MsoNormalTable {mso-style-name:"Table Normal"; mso-tstyle-rowband-size:0; mso-tstyle-colband-size:0; mso-style-noshow:yes; mso-style-parent:""; mso-padding-alt:0in 5.4pt 0in 5.4pt; mso-para-margin:0in; mso-para-margin-bottom:.0001pt; mso-pagination:widow-orphan; font-size:10.0pt; font-family:"Times New Roman"; mso-ansi-language:#0400; mso-fareast-language:#0400; mso-bidi-language:#0400;}

Praise for The Tombs:

"This adventure series stands as one of the crown jewels in the Cussler empire."—Publishers Weekly
Normal 0 false false false MicrosoftInternetExplorer4 /* Style Definitions */ table.MsoNormalTable {mso-style-name:"Table Normal"; mso-tstyle-rowband-size:0; mso-tstyle-colband-size:0; mso-style-noshow:yes; mso-style-parent:""; mso-padding-alt:0in 5.4pt 0in 5.4pt; mso-para-margin:0in; mso-para-margin-bottom:.0001pt; mso-pagination:widow-orphan; font-size:10.0pt; font-family:"Times New Roman"; mso-ansi-language:#0400; mso-fareast-language:#0400; mso-bidi-language:#0400;}
or
Not Currently Available for Direct Purchase