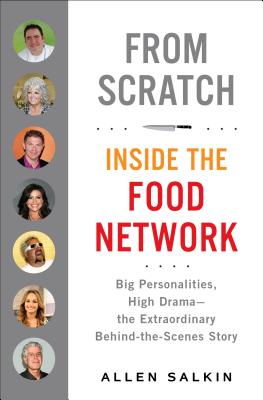 From Scratch (Hardcover)
Inside the Food Network
G. P. Putnam's Sons, 9780399159329, 434pp.
Publication Date: October 1, 2013
Other Editions of This Title:
Digital Audiobook (9/30/2013)
Paperback (10/7/2014)
* Individual store prices may vary.
Description
An Entertainment Weekly Best Tell-All of 2013
Allen Salkin shows how the sausage really gets made at the Food Network in From Scratch, a behind-the-scenes history liberally spiced with gossip and unsavory tidbits. Entertainment Weekly
A detailed look at the network from start-up phase to the present, with a generous lump of juicy stories about the network's most polarizing figures Guy Fieri, Bobby Flay, Anthony Bourdain and, of course, Paula Deen y all heaped on top. The Atlantic Wire
Big personalities, high drama the extraordinary behind-the-scenes story of the Food Network, now about to celebrate its twentieth anniversary: the business, media, and cultural juggernaut that changed the way America thinks about food.
In October 1993, a tiny start-up called the Food Network debuted to little notice. Twenty years later, it is in 100 million homes, approaches a billion dollars a year in revenue, and features a galaxy of stars whose faces and names are as familiar to us as our own family's.
But what we don t know about them, and the people behind them, could fill a book.
Based upon extensive inside access, documents, and interviews with hundreds of executives, stars, and employees all up and down the ladder, Allen Salkin's book is an exhilarating roller-coaster ride from chaos to conquest (and sometimes back). As Salkin takes us inside the conference rooms, studios, homes, restaurants, and after-hours meetings, we see a salty Julia Child lording it over the early network performers; a fragile Emeril Lagasse staggering from the sudden public shock of cancellation; a very green Rachael Ray nearly burning down the set on her first day; a torn Tyler Florence accepting the Applebee's job he knows he can t refuse, but with a chill running down his spine; a determined Bobby Flay reinventing himself once again to survive.
Paula Deen, Tom Colicchio, Anthony Bourdain, Mario Batali, Jamie Oliver, Martha Stewart, Guy Fieri, Cat Cora: Salkin illuminates the people we thought we knew, and the ones we never knew about, in this irresistible story of the intersection between business, television, pop culture, food and us.
About the Author
ALLEN SALKIN has been a journalist for such publications as New York magazine, The Village Voice, and Details. As a reporter for The New York Times, he wrote hundreds of features about food, culture, and media. He lives in New York City.
Praise For From Scratch: Inside the Food Network…
Praise for From Scratch: Inside the Food Network
 
"Dishy, behind-the-scenes . . . it's salacious enough to keep you swinging from one good old-fashioned bootstrap story to the next."--New York Times Book Review
 
"Allen Salkin shows how the sausage really gets made at the Food Network in From Scratch, a behind-the-scenes history liberally spiced with gossip and unsavory tidbits."—Entertainment Weekly
 
"In From Scratch: Inside the Food Network, Allen Salkin guides readers through the history of the network, from its start in the 1990s to today. Along the way, Salkin serves up plenty of stories that will surprise and entertain. . . For Food Network addicts hungry to know more about the network, Salkin's book will hit the spot."—Associated Press
 
"A detailed look at the network from start-up phase to the present, with a generous lump of juicy stories about the network's most polarizing figures—Guy Fieri, Bobby Flay, Anthony Bourdain and, of course, Paula Deen y'all—heaped on top."—The Atlantic Wire
 
"For a full account of the network and its evolution, it's worth reading Allen Salkin's excellent, informative new tome."—The Wall Street Journal

"You don't have to be a foodie to enjoy Allen Salkin's new book — "From Scratch" (Putnam) — about the creation of The Food Network 20 years ago, and its turbulent but highly successful history since then. Salkin researched and writes the story so well that it has the energy of a great show business novel . . . It's a TV business story, it's a tale of the rise of the food and restaurant cultures over the past two decades, and it's a look at a wide array of fascinating personalities who flourished (and fell) after the creation of a cable channel devoted to food . . . The result is a rare non-fiction book with the narrative pace of the juiciest fiction."—Connecticut Post

"Salkin's recipe is one part steamy exposé, one part deep-fried human interest and one part television history. This fusion cuisine should satiate food fans while providing television buffs an unprecedented look at the evolution of a network."—Kirkus Reviews

"From Scratch is a saucy tell-all, by turns shocking, funny and informative. Fans of the network or those who just love seeing how the show-biz sausage is made, this one's for you."—BookPage

"A new tell-all history of the Food Network that details the egos, and feuds of the people that made a fledgling upstart a cable TV empire."—The Daily Beast

"The definitive account of the 20-year-old network and its stars."—New York Daily News
 
"With a light wit and balanced perspective, Salkin presents the definitive history of the network from inception to the present day.  Food Network devotees will delight at the inside knowledge of internal scandals, the intriguing biographies of their favorite star chefs, and an exclusive look at the ever-shifting lineup of executives and parent companies . . . Salkin moves deftly between periods in the channel's development, garnishing the narrative with frequent quotes from influential personalities to add depth.  [A] nuanced and rich tale of an empire that no one expected to survive."—Publishers Weekly
or
Not Currently Available for Direct Purchase