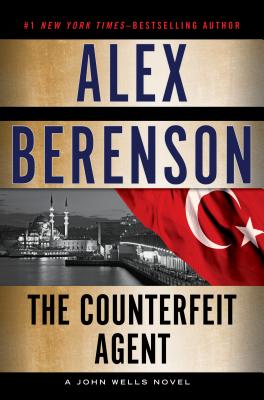 The Counterfeit Agent
Hardcover

* Individual store prices may vary.
Other Editions of This Title:
Digital Audiobook (2/10/2014)
Paperback (1/27/2015)
Hardcover, Large Print (2/5/2014)
Compact Disc (2/11/2014)
Description
""Berenson's strength is his deep understanding of geopolitics and of the shoddy compromises it demands. He clearly has excellent contacts in the world of shadows. Wells is a complex and satisfying protagonist, tackling bad guys across the world's conflict zones.""--The New York Times Book Review
John Wells goes undercover as the threat of nuclear war skyrockets between the United States and Iran, in the cutting-edge new novel from the #1 "New York Times"-bestselling author.
In an Istanbul hotel, a deep source warns a CIA agent that Iran intends to kill a CIA station chief. Quickly, John Wells is called in to investigate, but before he can get far, the tip comes true. Which means that the "next" warning the source gives will be taken very seriously indeed. And it's a big one. "We've put a package on a ship from Dubai to the United States.""A radioactive one." A bomb? "Not yet. It's a test run."
As the threat level jumps and the government mobilizes, something still doesn't smell right to Wells's old CIA boss Ellis Shafer, and so he sends Wells on a private mission to find out what's going on. But the two of them are swimming against the tide. From Guatemala to Thailand to Hong Kong to Istanbul, Wells uses every skill he has, including his ability to go undercover in the Arab world, to chase down leads. But it might not be enough. Soon there might be nothing anyone can do to pull the United States back from the brink of war.
Praise For The Counterfeit Agent…
Praise for The Counterfeit Agent
 
"The Counterfeit Agent is as topical as any of Berenson's books and, with its sharp details and knowingness, gives you the distinct impression that the author has talked to more than enough people to know of what he speaks... The plot is every bit the thrill ride it sounds like, [and then] there is Wells. He is, necessarily, a dashing, hard-to-defeat fellow. But he is deeply human, frustrated as often by love and his own personal demons as by the villains around him. He is a morally complex protagonist, an entertaining guy to hang out with. He alone makes The Counterfeit Agent worth the read."—Associated Press

"Whatever real-world geopolitical threat you're following, chances are the fictional John Wells has already handled it in his ripped-from-the-headlines adventures."—NPR books
 
"With each [book] Alex Berenson's idiosyncratic invention, John Wells, a US secret-ops agent and convert to Islam, finds himself getting older and fighting harder for higher stakes in a novel that earns your attention and delivers an intriguing catch at the end . . . [Berenson's] clean, clear prose and solid grasp of global geopolitics make for compelling, believable scenes and chapters."—The Boston Globe
 
"A geo-political thriller that is action packed, mimics the real world, and is full of surprises."—Crimespree Magazine
 
"[A] volcanic shocker  . . . Working with plot elements that are terrifyingly realistic, research that rings as true as today's headlines, and characters that brim with integrity and swagger, Berenson puts John Wells right up there with the best of espionage fiction's greatest heroes."—Library Journal
 
"Berenson ratchets the tension ever higher, combining plenty of vividly detailed bloodletting with a fascinating look at geopolitics and the self-serving quagmire of governmental bureaucracy. Wells stands outside all that, a Rambo with a brain who can't resist the call to action. The clock is ticking loudly this time, though, and fans will have to wait until the next book to see if Wells saves the world one more time."—Booklist

"Berenson sets this series apart by doing his homework. The locations are meticulously researched and exceptionally well-realized. Berenson also clearly knows his spycraft, and his knowledge of the inner workings at Langley adds an additional layer of detail . . . Another well-crafted entry in Berenson's excellent John Wells series."—Kirkus Reviews

"Action-packed . . . Thriller fans will eagerly await the return of the estimable Wells."—Publishers Weekly
 
Praise for The Night Ranger
 
"[A] taut thriller offers plenty of twists and turns, told in the bestselling author's fast-paced style."—Fort Worth Star-Telegram
 
"A tense thriller that relies equally on bravery, wit, and 21st-century American firepower . . . Berenson gives readers top-notch, fast-paced excitement in a part of the world unfamiliar to many Americans.  John Wells is a worthy hero readers can count on."—Kirkus Reviews

"The chaos of East Africa and the complex realities of relief efforts in that region form the backdrop for Edgar-winner Berenson's gripping seventh thriller . . . Taut prose, plausible action, and plenty of plot surprises ensure another winner for this perennial bestseller."—Publishers Weekly
Putnam Adult, 9780399159732, 374pp.
Publication Date: February 11, 2014
About the Author
As a reporter for "The New York Times," Alex Berenson covered topics ranging from the occupation of Iraq to the crimes of Bernie Madoff. His seven previous John Wells novels include "The Faithful Spy," winner of the 2007 Edgar Award for best first novel. He lives in Garrison, New York.
or
Not Currently Available for Direct Purchase