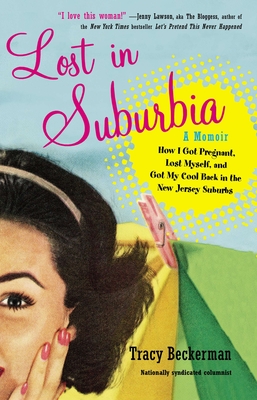 Lost in Suburbia
a Momoir: How I Got Pregnant, Lost Myself, and Got My Cool Back in the New Jersey Suburbs
Paperback

* Individual store prices may vary.
Description
It's a suburban jungle out there

When syndicated columnist Tracy Beckerman trades in her TV job and cool NYC existence for the New Jersey suburbs, she doesn't expect to also trade in her entire identity. But her new life as a stay-at-home mom knocks her for a loop in more ways than one. From the embarrassment of being ticketed while driving in her bathrobe to the challenge of making friends in the land of big hair and minivans, Beckerman shares her struggles with self-deprecating humor as she endeavors to reclaim her cool.

Beckerman reveals the universal trials, tribulations, and triumphs of every mom who has to figure out how to stay sane while fishing Barbie heads out of the toilet; how to laugh when your kid asks the fat cop at the doughnut shop if he's having a baby; and how to look good when your post-baby butt is so big you want to hang a "Caution: Wide Load" sign behind you.

At once irreverent, hilarious, and keenly observed, Lost in Suburbia is about what you give up to become a mother—and what you get back.
Praise For Lost in Suburbia: a Momoir: How I Got Pregnant, Lost Myself, and Got My Cool Back in the New Jersey Suburbs…
Praise for Lost in Suburbia

"Reading Lost in Suburbia, locked in my bathroom all alone, I laughed, I cried (from laughing), and then I laughed some more. When you're feeling overwhelmed by the maddening, mind-numbing demands of motherhood, get Lost in Suburbia. You'll be so glad you did." --Jenna McCarthy, author of If it was Easy, They'd Call the Whole Damn Thing a Honeymoon, and The Parent Trip: From High Heels and Parties to High Chairs and Potties

"Lost in Suburbia had me snorting with laughter throughout. It's painfully relatable and simply hilarious. If you've ever looked at your suburban life with kids and wondered how the hell you got there, this book is for you."--Jill Smokler, New York Times bestselling author of Confessions of a Scary Mommy: An Honest and Irreverent Look at Motherhood

"I love this woman."--Jenny Lawson, aka The Bloggess, and author of the New York Times bestseller Let's Pretend This Never Happened

"Beckerman's effervescent, irreverent humor is peppered with heartfelt poignancy in this most relatable memoir about motherhood and re-discovering your bad-mom self" --Jenny Gardiner, author of the #1 Kindle Bestsellers, Slim to None and Sleeping with Ward Cleaver

"Lost in Suburbia is packed with the funniest truths and palmetto bug fears. When you put it down to drive the carpool, you'll miss your new best friend."--Gwendolen Gross, author of When She Was Gone and the bestselling novel, The Orphan Sister

"Beckerman is the girlfriend you wish you had when you were expecting and the cool mom you stalk at Mommy & Me. Her stories of new motherhood are completely relatable, funny, and heart wrenching."--Lela Davidson, author of Blacklisted from the PTA and Who Peed on My Yoga Mat

"I am a man and I am not in touch with my feminine side because I don't have a feminine side. So when I tell you that Lost in Suburbia made me laugh, it's because it's really, really funny. There's stuff for guys in here… I swear on my high testosterone levels!" --W. Bruce Cameron, author of the New York Times bestselling books, A Dog's Purpose, the sequel, A Dog's Journey, and 8 Simple Rules for Dating My Teenage Daughter

"Lost in Suburbia offers witty solace to every woman who has swapped high heels for high chairs and wondered if she'd ever get her mojo back.?" --Celia Rivenbark, author of the New York Times bestsellers, You Don't Sweat Much for a Fat Girl, and Stop Dressing Your Six Year Old Like a Skank

"Tracy Beckerman's writing is clever, funny and always relatable. You'll read this book and wish she lived next door!" --Robin O'Bryant author of Ketchup is a Vegetable and Other Lies Moms Tell Themselves

"Lighthearted, mostly humorous memoir of suburban motherhood based on the author's nationally syndicated column. Published by more than 400 newspapers in 25 states, Beckerman's column inspired an eponymous blog (lostinsuburbia.net), and her funny accounts of situations running the gamut from mundane to outrageous have resonated with readers, particularly mothers of young children. This book opens with a scene in which the always self-deprecating Beckerman, on an afternoon school run to pick up her daughter, was pulled over by a police officer who dryly observed that she was wearing her bathrobe. Chapter titles, including 'I'm Not Fat, I'm Just Pregnant. Okay, I'm Fat, Too" and ' 'P' Is for Parenting and Prozac,' in addition to Beckerman's tone, are consistently zippy and dramatic. She includes plenty of confrontations, like the scene in which her husband discovered she got a tattoo at age 35, as well as internal monologues riffing on the less-appealing aspects of motherhood, such as the lack of time to take a shower. The tattoo and subsequent chopping off of her hair are ascribed to Beckerman's desire to be 'cool' again, the way she was pre-motherhood when she worked in TV and lived in Manhattan. These efforts string the chapters together with the theme of the reignition of her individuality. Feeling that people look down on mothers, she acknowledges that 'the second we become moms we start to let ourselves go.' Beckerman doesn't want to lose herself in motherhood, and her 'momoir' offers entertaining vignettes about balancing her responsibilities at home with her quest to tap into her true self. Breezy fun."--Kirkus Reviews
TarcherPerigee, 9780399159930, 272pp.
Publication Date: April 2, 2013
About the Author
Tracy Beckerman writes the syndicated humor column and blog Lost in Suburbia, which is carried by more than 400 newspapers in 25 states and on 250 related websites to approximately 10 million readers. She appears frequently on TV and radio and does stand-up comedy about how to be a cool mom in the suburbs. Yes, she knows that is an oxymoron. Tracy lives in the suburbs of New Jersey with her husband, two kids, and four goldfish named Larry.
or
Not Currently Available for Direct Purchase