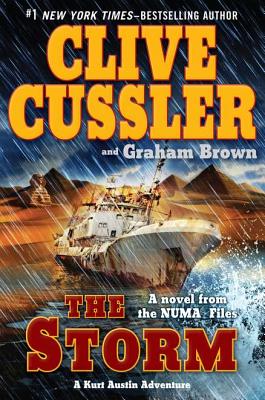 The Storm (Hardcover)
Putnam Adult, 9780399160134, 416pp.
Publication Date: May 29, 2012
* Individual store prices may vary.
Description
In the middle of the Indian Ocean, a NUMA research vessel is taking water samples at sunset, when a crew member spots a sheen of black oil ahead of them. But it is not oil. Like a horde of army ants, a swarm of black particles suddenly attacks the ship, killing everyone aboard, while the ship itself goes up in flames.
A few hours later, Kurt Austin and Joe Zavala are on their way to the Indian Ocean. What they will find there on the smoldering hulk of the ship will eventually lead them to the discovery of the most audacious scheme they have ever known: a plan to permanently alter the weather on a global scale. It will kill millions . . . and it has already begun.
Filled with the boundless invention unique to Clive Cussler, this is one of the most thrilling novels yet from the grand master of adventure.
About the Author
Clive Cussler is the author or coauthor of fifty previous books, including twenty-one Dirk Pitt(r) adventures, eight NUMA(r) Files adventures; eight "Oregon "Files books; five Isaac Bell thrillers; and three Fargo novels. His most recent "New York Times "bestsellers are "Crescent Dawn, The Jungle, The Kingdom, "and "The Race." His nonfiction works include "Built for Adventure: The Classic Automobiles of Clive Cussler and Dirk Pitt(r), " plus "The Sea Hunters "and "The Sea Hunters II";" "these describe the true adventures of the real NUMA, which, led by Cussler, searches for lost ships of historic significance. With his crew of volunteers, Cussler has discovered more than sixty ships, including the long-lost Confederate submarine "Hunley." He lives in Arizona.Graham Brown is the author of "Black Rain "and "Black Sun," and the co-author with Cussler of "Devil s Gate." A pilot and an attorney, he lives in Arizona.
or
Not Currently Available for Direct Purchase