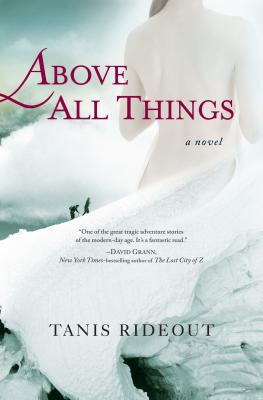 Above All Things (Hardcover)
Amy Einhorn Books, 9780399160585, 385pp.
Publication Date: February 12, 2013
Other Editions of This Title:
Digital Audiobook (2/11/2013)
Paperback (2/4/2014)
Hardcover, Large Print (6/26/2013)
* Individual store prices may vary.
Description
"Tell me the story of Everest," she said, a fervent smile sweeping across her face, creasing the corners of her eyes. "Tell me about this mountain that's stealing you away from me." 

In 1924 George Mallory departs on his third expedition to reach the summit of Mount Everest. Left behind in Cambridge, George's young wife, Ruth, along with the rest of a war-ravaged England, anticipates news they hope will reclaim some of the empire's faded glory. Through alternating narratives, what emerges is a beautifully rendered story of love torn apart by obsession and the need for redemption.
About the Author
Tanis Rideout's work has appeared in numerous publications and has been shortlisted for several prizes, including the Bronwen Wallace Memorial Award and the CBC Literary Awards. Born in Belgium, she grew up in Bermuda and in Kingston, Ontario, and now lives in Toronto. "Above All Things" is her first novel.
Praise For Above All Things…


"Part love-story, part high-octane adventure, this historical novel about doomed Everest climber George Mallory is a tough one to put down." —People

"Above All Things is a work as brilliant as sunlight bending off snow. Tanis Rideout's debut . . . is skillfully and beautifully written. Charmed readers will be transported back through time and space, placing them right on the slope of treacherous and majestic Mount Everest and right inside the conflicted hearts of these memorable characters. . . . Especially compelling, this novel weaves together fact and fiction to reclaim George Mallory's wife Ruth from obscurity, bringing her alive on the page in all her deeply affecting humanity. . . . Ideas of God, of glory, of perfectionism, of what endures, of faith and honor, duty and love, failure and success, passion and prudence, guilt and shame, heroes and fools—all powder this novel like multifaceted snowflakes—ideas that will fuel many worthy discussions among readers and critics alike. Similarly, readers and critics cannot but get excited about Ms. Rideout's marvelous gifts for writing and storytelling. . . . All of us are also better in Ms. Rideout's novel—and better for having read it. Above All Things is a startling and timeless work about our deepest desires, driving obsessions, and our insatiable need to be loved." —New York Journal of Books



"[An] absorbing, book-club ready first novel. A-" —Entertainment Weekly



"[A]s heart-pounding as anything in Into Thin Air—and the tension is lamost unbearable, even if we know the outcome. . . . Above All Things, finally, rises to the historic, even mythological occasion. Rideout's powerful prose about a tragic, brutal end will ahunt you." —USAToday.com



"Rideout does a brilliant job." —The New York Observer" 'Because it's there.' With just three words, George Mallory explained why explorers do what they do. Yet beyond these words, volumes have been left unsaid. With Above All Things, Tanis Rideout finally fills in this void, illuminating one of the great tragic adventure stories of the modern-day age. It's a fantastic read." —David Grann, New York Times-bestselling author of The Lost City of Z



"This magnificent novel, at once rugged and sensual, elaborates on George Mallory's assault on Everest in 1924, the ones who went, the ones who waited. Deeply felt, richly imagined, immaculately styled, and utterly compelling, Above All Things takes us to the heights of human experience and endurance, both in physical fortitude and erotic longing. Rideout brings us to the summit and back down, shaken but somehow saved by grace." —Robert Goolrick, author of A Reliable Wife and Heading Out to Wonderful



"Tanis Rideout's Above All Things is truly mesmerizing, a powerful weaving of the tensions and heartaches of a marriage in conflict with an obsession. It is the story of British climber George Mallory's third scaling of the walls of the world's highest mountain, and it is brilliantly told. It will take you up the slopes of Mount Everest, a climb so vividly described, you will almost feel the biting wind, the intense cold, the great drama of an historic event. But this is more than an adventure tale. Above All Things takes the reader into the hearts of both Mallory and his wife as they struggle to understand each other and their own conflicted yearnings. A deeply satisfying blend of truth and imagination that stands out from the crowd." —Kate Alcott, author of The Dressmaker



"A love story, a tale of adventure, and a study in obsession all at once, Above All Things is simply breathtaking. With Tanis Rideout's debut, a major new voice in fiction arrives." —Joseph Boyden, author of Through Black Spruce and Three Day Road

"Above All Things has it all: adventure, tragedy, mystery, and a deeply moving love story. It's gorgeously written and beautifully paced. I could not put it down. Prepare to be dazzled." —Alison Pick, author of Far to Go, long-listed for the Man Booker Prize



"...George Mallory is the subject of this knockout first novel from a Canadian poet. The author has exhilaratingly imagined the British climber's third and final attempt to reach the mountain's summit ... creating an atmosphere as authentic as in Jon Krakauer's Into Thin Air.... Book group alert! Rideout has written a superb addition to the fictional biography genre popularized by novels like Loving Frank and The Paris Wife. Buy it. Recommend it. Your patrons will thank you." —Library Journal, starred review



"This vivid, assured, and confident debut novel scales great heights of obsession and desire, both on the face of Mount Everest and in the loving bond between doomed explorer George Mallory and his wife, Ruth…. Rideout offers a gripping account of the expedition. The author's accomplished depiction of the harsh and beautiful Himalayan heights … pushes the reader forward in a gripping adventure narrative, while Ruth's own longings and fears offer a counterpoint of a more settled but no less intensely sensual interior landscape." —Publishers Weekly, starred review



"With a gripping, 'you are there' realism, Rideout's powerful prose evokes the scalpel-like sting of arctic winds and the bone-shattering cold of frigid mountain nights. Impeccably researched, Rideout's vividly authentic debut historical novel is a paean to the ability of love to conquer all but the highest mountains." —Booklist
Coverage from NPR
or
Not Currently Available for Direct Purchase