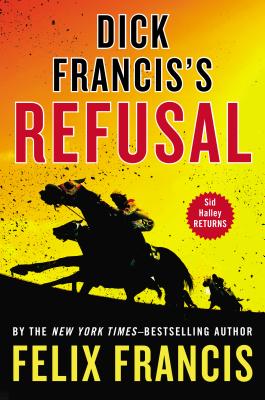 Dick Francis's Refusal (Hardcover)
G.P. Putnam's Sons, 9780399160813, 384pp.
Publication Date: September 3, 2013
* Individual store prices may vary.
or
Not Currently Available for Direct Purchase
Description
Dick Francis's beloved investigator Sid Halley returns in the riveting new mystery by New York Times bestselling author Felix Francis.
Six years ago, investigator Sid Halley retired for good. He d been harassed, beaten, shot, even lost a hand to his investigating business, and enough was enough. For the sake of his wife and new daughter he gave up that life of danger and uncertainty, and he thought nothing would ever lure him back into the game.
He thought wrong. Sir Richard Stewart, chairman of the racing authority, begs Sid to investigate a series of dodgy races. Sid adamantly refuses, but the following day, Sir Richard is found dead under suspicious circumstances. And then a man with an Irish accent contacts Sid, telling him to deliver a whitewashed report about the suspected race-fixing . . . or else.
At first Sid ignores these warnings, knowing that once he submits to this criminal bully, he will forever be under his control. But as the intimidation tactics escalate and Sid's own family comes under threat Sid realizes he must meet his enemy head-on . . . or he might pay the ultimate price for his refusal.
About the Author
FELIX FRANCIS assisted with the research and writing of many of the Dick Francis novels and is the coauthor of Dead Heat, Silks, Even Money, and Crossfire, and the author of Gamble and Bloodline. He lives in England. DICK FRANCIS was the author of more than forty acclaimed books. Among his numerous awards are three Edgar Awards for best mystery novel, the Crime Writers Association Diamond Dagger, and the Mystery Writers of America s Grand Master Award. He died in February 2010."
Praise For Dick Francis's Refusal…
Praise for Dick Francis's Refusal
 
"To the delight of Dick/Felix Francis fans, [Sid] Halley gets back into investigations after an eight-year hiatus . . . It's the kind of page turner that fans of either Francis have come to expect."—Sacramento Bee
 
"In REFUSAL, [Felix Francis] has found a strong voice and confident style . . . in the same, comforting, ever-so-British style of his father, Francis assures readers that integrity will prevail."—The Plain Dealer
 
"A fast-paced, highly professional evening's entertainment."—Kirkus Reviews
 
"This is fascinating reading on every level, from the neatly calibrated plot, moving from suspense to terror, to all the details of the racing world Francis provides. Halley is now, as before, an utterly complex, interest-holding character. And the final, moral turn that Francis makes of "refusal" is brilliant. A heroic return for Sid Halley."—Booklist (starred review)
 
"Francis successfully resurrects one of his late father's most popular creations and only series character—disabled jockey–turned–PI Sid Halley . . . Longtime fans will be hard put to tell this gripping thriller from the senior Francis's work."—Publishers Weekly
 
Praise for the Dick Francis novels by Felix Francis
 
Bloodline
 
"Francis knows how to control this wild run of a plot and also knows how to create a conflicted character in the midst of crisis.  A stunning addition to the family line."—Booklist (starred review)
 
"With "Gamble" in 2011 and now "Bloodline," Felix Francis shows that the apple hasn't fallen far from the tree…the story unfolds with the suspense and insistent pace readers expect from their annual Francis fix."—Washington Times
 
"Francis ably follows in the footsteps of his father, Dick Francis, with his second stand-alone set in the English horse racing world… Fans will have a hard time distinguishing this solid thriller from the father's work."—Publishers Weekly
 
Gamble
 
"[Felix] Francis shares his father's gift for brisk storytelling."
—Publisher's Weekly
 
"Fans of Dick Francis' suspense masterpieces should rejoice:  Felix has produced a mystery with a racing setting (the Grand National, no less); a retired but still yearning ex-jockey as the detective; and an intriguing mix of racing and other business."
—Booklist
 
"Gamble has all the things that loyal readers have anticipated in their annual Francis fix: a taut and intelligent story full of suspense, danger and mystery in spare and fast-moving prose that keeps readers' attention . . . Francis novels, under new management, will continue to find themselves at the very top levels of genre fiction."
—Washington Times
Advertisement