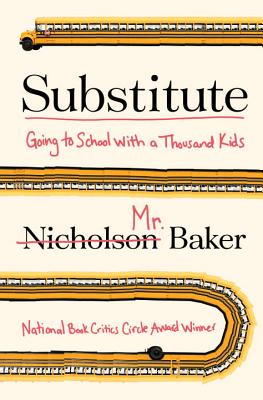 Substitute
Going to School with a Thousand Kids
Hardcover

* Individual store prices may vary.
Other Editions of This Title:
Digital Audiobook (10/24/2016)
MP3 CD (10/25/2016)
Compact Disc (10/25/2016)
Paperback (9/5/2017)
Description
**A New York Times Bestseller**

"May be the most revealing depiction of the American contemporary classroom that we have to date." —Garret Keizer, The New York Times Book Review
 
Bestselling author Nicholson Baker, in pursuit of the realities of American public education, signed up as a substitute teacher in a Maine public school district.

In 2014, after a brief orientation course and a few fingerprinting sessions, Nicholson Baker became an on-call substitute teacher in a Maine public school district. He awoke to the dispatcher's five-forty a.m. phone call and headed to one of several nearby schools; when he got there, he did his best to follow lesson plans and help his students get something done. What emerges from Baker's experience is a complex, often touching deconstruction of public schooling in America: children swamped with overdue assignments, over­whelmed by the marvels and distractions of social media and educational technology, and staff who weary themselves trying to teach in step with an often outmoded or overly ambitious standard curriculum.
 
In Baker's hands, the inner life of the classroom is examined anew—mundane work­sheets, recess time-outs, surprise nosebleeds, rebellions, griefs, jealousies, minor triumphs, kindergarten show-and-tell, daily lessons on everything from geology to metal tech to the Holocaust—as he and his pupils struggle to find ways to get through the day. Baker is one of the most inventive and remarkable writers of our time, and Substitute, filled with humor, honesty, and empathy, may be his most impressive work of nonfiction yet.
Praise For Substitute: Going to School with a Thousand Kids…
"By far the most accurate portrayal to date of the modern American classroom….With his fresh set of eyes and attention to detail, Baker reveals the American classroom to be fundamentally broken, held together by the students' resilience and the teachers' sheer will. Substitute is an eye-opening indictment of our educational technocracy."
—Mike St. Thomas, Commonweal

"Baker has a perfectly pitched ear and a high emotional IQ, and with them captures the flow of banter, amusement, squabbling, dire boredom, perfectly pitched demonic speech, small lurches of actual learning, and scenes of minor heartbreak that fill a school day."
—William Finnegan, The New York Review of Books

"A finely detailed chronicle…[Baker's] ideas are provocative."
—The New Yorker

"[T]here are few substitutes for Substitute. Excepting those accounts that point to larger social injustices, Baker's book may be the most revealing depiction of the American contemporary classroom that we have to date."
—Garret Keizer, The New York Times Book Review

"Nicholson Baker strode bravely into the classroom to see just how defective our schools are…a lively day-by-day account of everything he saw and heard…It's storytelling as commentary, and it means that Substitute's pages fly by…the tedium of teaching finds him pressing his gift for metaphor to ever more creative ends." 
—Dan Piepenbring, The Paris Review
 
"This is the only way a reader could truly grasp the monotonous, hectic, and exhausting world of substitute teaching. Baker masterfully uses [Substitute] to place the reader directly in the action and into a world that few are given the chance to see once they leave school."
—Bridey Heing, TheAtlantic.com

"Substitute is a surprisingly hefty contribution to the life-of-a-teacher genre…chronicled with the moment-by-moment vividness that Baker has made one of his trademarks….his sub's perspective on some very average schools delivers a message Americans still need to hear: K–12 education, as the province of children and mostly women, regularly inspires panic, but all too rarely receives the serious, sustained attention it actually merits….His book is a reminder that kids and teachers are often in the same boat, and both deserve better."
—Sara Mosle, The Atlantic

"Baker clearly loves kids, and the funniest, most poignant pages of Substitute capture their intelligence, humor, sweetness and exasperating energy."
—The Washington Post

"Substitute is a fun read….a worthwhile and entertaining read for anyone who has ever gone to school or knows anyone in school. Pages are filled with kid dialogue and great sentences and pithy moments."
—Christine Brunkhorst, Minneapolis Star-Tribune

"An illuminating snapshot of public education in America today."
—The Boston Globe

"Substitute is a rare thing, a book that takes a close look at youth culture and the education system…The end result is surprisingly exhilarating….Dialogue pops with non sequiturs and constantly veers off in absurd directions….the surreality coalesces into something magic, something approaching a metaphor that hints at the glorious madness, struggle and possibility of those strange, raw years."
—Lisan Jutras, The Globe and Mail

"Is there anyone of good will who reads stories about 21st century education and the young people it gives us who DOESN'T want to know what the devil is going on?…A brilliant idea…The world we discover inside [Substitute] is of kids overwhelmed with homework and social media, of some kids overmedicated too….A marvel of our literary life."
—Jeff Simon, The Buffalo News

"Ever since his ingenious 1988 debut novel, The Mezzanine, Nicholson Baker has been a writer I take on trust. Substitute rewards that trust….Baker makes English's idiosyncrasies dizzyingly fresh. His wacky descriptive gifts are also on brilliant display….a sobering reminder of the minefield mentality that dominates our schools [yet]…Ultimately, Baker's book is laced with exhilaration."
—Michael Upchurch, The Seattle Times

"Baker effectively portrays the everyday din of grinding pencil sharpeners and screaming students. His book abounds in artful observations and snippets of dialog with children, and in this compares favorably to a classic of the genre: Tracy Kidder's Among Schoolchildren. But it is also studded with subtle insights. He writes of the apparent futility of schooling, the "valueless, instantly forgettable knowledge" that children are expected to absorb, and bemoans the educational culture of assessment tools and checklists. VERDICT: Recommended."
—Seth Kershner, Library Journal

"Nicholson Baker has produced both a tribute to and an indictment of American education, and he has done so with a winning blend of mordant wit and effulgent idealism. He hasn't quite worked out how to fix the system, but he has diagnosed its many ills and, equally, recognized how much of value survives even in impossible classrooms with impossible kids. Substitute is both intimate and inclusive, and it is written with brio."
—Andrew Solomon, National Book Award winner and author of Far from the Tree

"Nicholson Baker has given us a funny and heartbreaking close-up of life in today's Amer­ican schools. Nice kids and well-meaning teachers are trapped in a boring, intellectually stifling system: endless vocabulary lists unconnected to central ideas, 'writing' assignments that are basically fill-in-the-blanks, constant surveillance to prevent kids from escaping into video games, pervasive concentration on taking, recording, and retaking tests. Surely we can do better than this."
—Nel Noddings, Lee Jacks Professor of Child Education Emerita, Stanford University, and author of A Richer, Brighter Vision for American High Schools
 
"Equal parts heartbreaking and heartwarming, Substitute provides an eye-opening look at the challenges within the American public education system. Rich with empathy and nearly impossible to put down, Substitute is a must-read for parents, educators, and anyone else who cares about the future of our children."
—Katie Hurley, LCSW, author of The Happy Kid Handbook

"In a weird and wild twenty-eight days, Nicholson Baker faithfully reports on the aspirations, tedium, humanity, and chaos brewing in American schools. Substitute is a wry, riveting, and potent account, where little adornment is needed. Baker understands that there is no more telling way to reveal the current and future state of our society than showing how millions of our schoolchildren spend their days."
—Ed Boland, New York Times–bestselling author of The Battle for Room 314

"Baker's signature wordplay and inventive voice shine through…ultimately [he] forges a gripping and indispensable time-capsule of teaching and learning in the twenty-first century."
—Publishers Weekly
Penguin Press, 9780399160981, 736pp.
Publication Date: September 6, 2016
About the Author
Nicholson Baker is the author of ten novels and five works of nonfiction, including The Anthologist, The Mezzanine, and Human Smoke. He has won the National Book Critics Circle Award, the Hermann Hesse Prize, and a Katherine Anne Porter Award from the American Academy of Arts and Letters. He lives in Maine with his wife, Margaret Brentano; both his children went to Maine public schools.
or
Not Currently Available for Direct Purchase