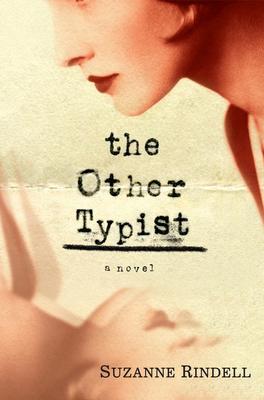 The Other Typist
Hardcover

* Individual store prices may vary.
Other Editions of This Title:
Digital Audiobook (5/6/2013)
Paperback (4/1/2014)
Compact Disc (5/7/2013)
Library Binding, Large Print (9/1/2013)
Description
"Take a dollop of Alfred Hitchcock, a dollop of Patricia Highsmith, throw in some "Great Gatsby" flourishes, and the result is Rindell's debut, a pitch-black comedy about a police stenographer accused of murder in 1920s Manhattan.... A deliciously addictive, cinematically influenced page-turner, both comic and provocative." "Kirkus Reviews," starred review
For fans of "The Talented Mr. Ripley "and "The Great Gatsby "comes one of the most memorable unreliable narrators in years.
Rose Baker seals men's fates. With a few strokes of the keys that sit before her, she can send a person away for life in prison. A typist in a New York City Police Department precinct, Rose is like a high priestess. Confessions are her job. It is 1923, and while she may hear every detail about shootings, knifings, and murders, as soon as she leaves the interrogation room she is once again the weaker sex, best suited for filing and making coffee.
This is a new era for women, and New York is a confusing place for Rose. Gone are the Victorian standards of what is acceptable. All around her women bob their hair, they smoke, they go to speakeasies. Yet prudish Rose is stuck in the fading light of yesteryear, searching for the nurturing companionship that eluded her childhood. When glamorous Odalie, a new girl, joins the typing pool, despite her best intentions Rose falls under Odalie's spell. As the two women navigate between the sparkling underworld of speakeasies by night and their work at the station by day, Rose is drawn fully into Odalie's high-stakes world. And soon her fascination with Odalie turns into an obsession from which she may never recover.
Praise For The Other Typist…
LA Public Library's Best Fiction of the year: "It's The Great Gatsby meets The Talented Mr. Ripley in this psychological thriller by first-time author Rindell."
"Best for those who can't get enough of The Great Gatsby and the Roaring Twenties. . . . This thrilling page-turner cinematically captures the opulence—and sordidness—of the Prohibition Era in New York." —Shape.com


"Take a dollop of Alfred Hitchcock, a dollop of Patricia Highsmith, throw in some Great Gatsby flourishes, and the result is Rindell's debut, a pitch-black comedy about a police stenographer accused of murder in 1920s Manhattan. . . . A deliciously addictive, cinematically influenced page-turner, both comic and provocative." —Kirkus Reviews, starred review

"Read The Other Typist. Set in the jazzy 1920s, this super-eerie page-turner about obsession is a striking debut for author Suzanne Rindell." —ELLE (Canada)

"[A] superb debut novel . . . the more we read, the closer we are drawn to the edge of our seat, such is the pull of this fiendishly crafty psychological thriller. . . . The period detail is excellent. . . . Rindell handles the suspense with aplomb. . . . It is not every first novel that can successfully evoke a lost era or recall the cruel machinations and tortuous entanglements of Patricia Highsmith's fiction. But Rindell has done just that. . . . We find ourselves not recoiling but succumbing, even more entranced, and hang on rapt all the way until her last dramatic act." —Minneapolis Star Tribune



"[F]rom the first page [I] was absorbed: I haven't been able to put it down . . . reminds me at points of Notes on a Scandal and Patricia Highsmith, but has creepy charms all its own." —Sadie Stein, The Paris Review

"[A] thrilling story set in glamorous, Prohibition-era Manhattan." —Reader's Digest

"Rindell's debut is a cinematic page-turner." —Publishers Weekly

"It's a riveting ride."—NPR.org

"The suspenseful story will keep you guessing." —Bookpage

"Revealing that there is a murderous twist in Suzanne Rindell's spellbinder isn't a spoiler but an essential for enjoying the exhilirating buildup." —Daily Candy

"With hints toward The Great Gatsby, Rindell's novel aspires to recreate Prohibition-era New York City, both its opulence and its squalid underbelly. She captures it quite well, while at the same time spinning a delicate and suspenseful narrative about false friendship, obsession, and life for single women in New York during Prohibition." —Booklist

"Fans of Patricia Highsmith's The Talented Mr. Ripley are sure to love Rindell's debut novel." —Library Journal

"The Other Typist is a thrilling riff on the classic noir and an impressive first novel." —The Christian Science Monitor

"Suzanne Rindell's debut novel is a lush, evocative, darkly comic noir . . . a novel that keeps you turning the pages (and then turning them back again to see if you missed a clue or two). The author is a vivid storyteller; nearly every scene is expertly detailed without being overdone. Rindell brings the Jazz era to life effortlessly. . . . The Other Typist is an easy read and perfect book to start the summer with." —Examiner.com

"This eerie and compelling debut is a riveting page-turner, narrated by a strangely hypnotic yet dubious young woman who works as a typist for the NYPD in the 1920s. Don't start this novel at night if you need your beauty sleep—you'll stay up to all hours devouring its pages." —Alice LaPlante, New York Times–bestselling author of Turn of Mind



"As you read this remarkable first novel you will feel the room temperature drop. It's chilling till the very end." —Rita Mae Brown, MFH, Author

"You could make a one-sitting read of The Other Typist: it maintains the riveting dance of question-provoking answers that earn page-turners their name, and Suzanne Rindell's Jazz Age NYC is gritty, glamorous, and utterly absorbing. . . .Whenever you close the covers, have a book friend handy—you'll want to talk about The Other Typist." —Alison Atlee, author of The Typewriter Girl

"The Other Typist is a twisty yarn that drives the reader through the story in a frenzied quest to discover what's real and what isn't. Rose, the unreliable narrator, tells the tale of an even more unreliable woman, and Suzanne Rindell plays them both to perfection." —B.A. Shapiro, New York Times–bestselling author of The Art Forger

"Suzanne Rindell messes with your head. The Other Typist pretends to be the story of a nice young woman entering the cutthroat world of police work in 1920's New York. But it's New York, not the nice young woman, who should be trembling. I had a blast reading this and had my nerves scrambled by the end." —Victor LaValle, author of The Devil in Silver
Amy Einhorn Books, 9780399161469, 356pp.
Publication Date: May 7, 2013
About the Author
Suzanne Rindell is a doctoral student in American modernist literature at Rice University. "The Other Typist "is her first novel. She lives in New York City and is currently working on a second novel.
or
Not Currently Available for Direct Purchase