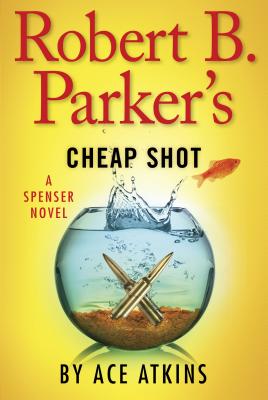 Robert B. Parker's Cheap Shot (Hardcover)
G.P. Putnam's Sons, 9780399161582, 320pp.
Publication Date: May 6, 2014
Other Editions of This Title:
Digital Audiobook (5/5/2014)
Paperback (5/5/2015)
Paperback, Large Print (5/5/2015)
CD-Audio (9/1/2015)
Paperback (3/26/2015)
Hardcover, Large Print (5/7/2014)
Compact Disc (5/6/2014)
* Individual store prices may vary.
Description
Assured... Atkins's gift for mimicking the late Robert B. Parker could lead to a long run, the the delight of Spenser devotees.
"Publishers Weekly"
"The iconic, tough-but-tender Boston PI Spenser returns in an outstanding new addition to theNew York Times-bestselling series from author Ace Atkins."
Kinjo Heywood is one of the New England Patriots marquee players a hard-nosed linebacker who's earned his reputation as one of the toughest guys in the league. When off-field violence repeatedly lands Heywood in the news, his slick agent hires Spenser to find the men who he says have been harassing his client.
Heywood's troubles seem to be tied to a nightclub shooting from two years earlier. But when Heywood's nine-year-old son, Akira, is kidnapped, ransom demands are given, and a winding trail through Boston's underworld begins, Spenser puts together his own all-star team of toughs. It will take both Hawk and Spenser's protege, Zebulon Sixkill, to watch Spenser's back and return the child to the football star's sprawling Chestnut Hill mansion. A controversial decision from Heywood only ups the ante as the clock winds down on Akira's future.
About the Author
Robert B. Parkerwas the author of more than fifty books. He died in January 2010.

Ace Atkinsis the Edgar-nominated author of fifteen books, including the forthcoming Quinn Colson novel"The Forsaken."Selected by the Robert B. Parker estate to continue the Spenser novels, he has also written"Robert. B. Parker s Lullaby"and"Robert B. Parker s Wonderland," both of which were"New York Times"bestsellers. He lives in Oxford, Mississippi."
Praise For Robert B. Parker's Cheap Shot…
Praise for ROBERT B. PARKER'S WONDERLAND
"Atkins finds his footing this time, settling into the character and concocting a fairly complex caper with urban development, organized crime, and sex all playing roles….Quite a good crime novel."—Booklist
 
"Solid… Atkins's ability to perfectly mimic the originals will please diehard fans hungry for familiar pleasures."—Publishers Weekly

"An entertaining effort." — Kirkus Reviews

"These books are real gems…the old Spenser magic is back."—Aspen Daily News


Praise for ROBERT B. PARKER'S LULLABY
"Handpicked by the Parker estate to be the keeper of the flame for the Spenser franchise, award-winning author Ace Atkins rises flawlessly to the occasion. In addition to the signature dialogue, all the familiars are fully resurrected: Susan, the sexy shrink; Pearl, the wonder dog; Hawk, the wonder sidekick; good cop Quirk, and, of course, Spenser himself, that consummate knight errant for the 21st century."—Kirkus Reviews

"Even the most fanatical Parker fans would be hard pressed to identify any aspect of this Spenser novel that doesn't read as if it were penned by Spenser's late creator.…Atkins hits all the familiar marks – bantering scenes with Spenser's girlfriend, fisticuffs, heavy-duty backup from the dangerous Hawk – as he offers familiar pleasures."—Publishers Weekly
 
"A brisk read. Atkins gets the important things right, from Spenser's dark sarcasm to the gritty attitude of Mattie Sullivan, a 14-year-old Southie girl trying to solve her mother's murder."—Boston Magazine

"Atkins succeeds. He doesn't sound like somebody trying to emulate Parker…. Spenser, thankfully, sounds like Spenser. You also get the vivid sense of place, flexing of muscles and spare plot that were hallmarks of Parker's 39 Spenser books….It's a feat when a writer creates characters who live and breathe on the page and make readers care and keep coming back for more. To manage that with someone else's characters, let alone with an icon like Spenser, is a minor miracle. Ace Atkins pulls it off."—Chicago Sun-Times
or
Not Currently Available for Direct Purchase